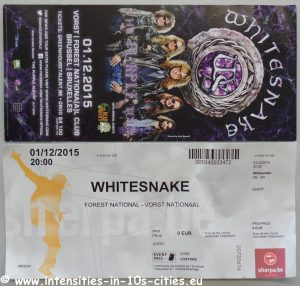 "Nous réouvrons nos portes ce mardi 1er décembre pour le concert de Whitesnake", annonce Forest National suite à 10 jours de fermeture et d'annulations en tous genres pour cause d'alerte-attentat niveau 4 à Bruxelles. Ouf, à un jour près, ce concert était lui aussi annulé et nous n'aurions pu jouir du plaisir de revoir 110 minutes durant un grand contributeur à l'histoire du rock british – et donc du rock mondial. Examining the pre-1987 Whitesnake, they were one of the best blues-rock bands you're ever likely to hear...
Avec d'omni-présentes background vocals qui (biffez les mentions inutiles) noient / supportent / camouflent / secondent quelque peu l'organe du beau David Coverdale, la voix de WHITESNAKE semble néanmoins tenir la distance malgré les années qui s'accumulent au compteur. A l'instar soit dit en passant de son physique en général: mais quel est donc son élixir de "jeunesse" qui fait que les six années qui se sont écoulées depuis notre dernier face-à-face aient laissé davantage de stigmate sur notre corps devenu que chez cet inoxydable et inoxydé Coverdale ?! Des noms, on veut des noms ! Quel est son sorcier, quelle est sa recette, qui est son gourou, de quoi est composée cette mixture dont il se ressert d'ailleurs plus d'une fois en cours de concert…?!
Ce Purple Tour 2015 fait ainsi la part belle aux compositions datant de l'époque où Coverdale officiait encore au sein de Deep Purple. Il n'en demeure pas moins que la set-list ne néglige nullement les indémodables classiques et incontournables hits estampillés WHITESNAKE, malgré l'absence de Dough Aldrich (heureusement croisé récemment au Spirit of 66 aux côté de Glenn Hughes). Autre transfuge évidemment absent ce soir: Bernie Marsden, rencontré lui aussi par bonheur cet été au Ramblin' Man. Si Deep Purple reste ainsi indirectement le fil rouge de nos récents gigs, il en est quelque peu de même de Ted Nugent avec la présence ce soir à Forest National de deux de ses anciens comparses avec qui nous avons passé deux-trois soirées lors de son US Tour 2000: Tommy Aldridge qui est toujours aux drums de WHITESNAKE ce soir et Marco Mendoza qui, après avoir ensuite quitté Thin Lizzy, officie maintenant à la basse des DEAD DAISIES qui assurent une remarquable et décoiffante première partie.
WHITESNAKE assure en définitive un concert de bonne facture, sans surprise ni coup d'éclat particulier même si certains morceaux ont, sur scène, moins bien vieilli que d'autres: comme le vin, il est des millésimes qui tiennent moins bien la distance, ce qui n'enlève rien au (re)nom du château qui les a produits. A déplorer toutefois la longueur, la lourdeur et la fatuité des deux aussi interminables qu'inutiles soli de guitare: s'ils sont d'un affligeant soporifisme, ils permettent probablement à Coverdale d'aller se repoudrer le nez et changer de toilette. Défilé de mode ou concert, sa garde-robe sera une troisième fois sollicitée lors du drum-solo d'Aldridge qui nous laisse quant à lui une impression cette fois nettement plus positive de par la créativité qu'on lui (re)connaissait déjà par ailleurs. Quand on n'a plus rien à prouver…
Nous aurions préféré que WHITESNAKE nous convie dans l'intimité d'une Ancienne Belgique surchauffée comme ce fut le cas lors de son dernier passage par Bruxelles, mais Forest National en configuration club (bien, très bien rempli) a néanmoins tenu la distance. Un voyage dans le temps et dans des sonorités du siècle dernier que nous avons savouré sans culpabilité aucune comme une madeleine enfouie, et que The DEAD DAISIES en première partie ont réellement contribué à magnifier, et pas qu'en affichant un line-up de belles brochettes d'ex-Motley Crue, ex-Thin Lizzy, ex-Ted Nugent et ex-Guns'n'Roses, excusez du peu.