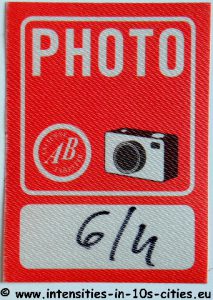 Un light show bleu accentué, de surcroit en contre-plongée arrière, quoi de mieux pour mettre en scène le côté sombre des compos? Mais quoi de pire pour tirer quelque cliché…? The dark side of THERAPY?
Lorsqu'on nous offrit pour nos 30 ans, un beau soir de 1994, l'album "Troublegum" d'un groupe qui nous était alors tout à fait inconnu, nous étions aux antipodes de penser que plus de 20 ans après, son effet sur scène serait toujours aussi intense, puissant et dévastateur. Ce lundi de Pâques, l'Ancienne Belgique a tremblé pour la 9ème fois sous les coup de butoir de THERAPY?, et ce sont les quelques extraits de "Troublegum" – toujours… – qui ont le plus agité le sismographe et pogoté les neurones. " Happy people have no stories ": c'est ce que disait déjà le thérapeute en chef de THERAPY? en 1995 sur "Infernal Love". 20 ans plus tard, ce même Andy Cairns est donc pour la neuvième fois de passage à l'Ancienne Belgique pour présenter – notamment – le quatorzième et dernier enfantement du groupe. Aussi lourd que sombre, dark side of THERAPY?
En offrant au public belge une incartade par Bruxelles alors qu'ils sont en plein UK Tour, les Irlandais font honneur à une audience continentale qui a été une des premières à leur conférer un statut international. La prestation de ce soir demeure dans le standard auquel THERAPY? nous a habités, malgré deux ombres à un tableau pourtant épicé : une sono un peu brouillonne en début de set, et la voix d'Andy Cairns encore souffrante de sa récente et méchante grippe qui vient de leur faire annuler deux dates anglaises.
Nonobstant, ces vieux brigands de THERAPY? sont fidèles à leur réputation, délivrant ce soir un parfait " in-your-face, bruisingly melodic punk/metal with a healthy respect for noise, chaos and unsettling psychodrama ". Le public semble majoritairement constitué de fidèles de la première heure, même si l'accueil réservé par celui-ci aux extraits du dernier album sorti il y a moins de 10 jours est pour le moins (très) hot.
Commencé en force avec leur nouveau single, le concert se termine en bouquet final avec un explosif "Nowhere" qu'introduit furieusement un virulent "Breaking the Law" emprunté à Judas Priest. Nourri d'un light show allant crescendo et toutes griffes dehors à la dimension du power trio, le band, lui, avait déjà sorti les crocs dès le premier accord. Vient assurément d'être écrite une nouvelle page de la belle romance entre les Irlandais et la Belgique – Ancienne ou pas.