Saint-Nicolas a comme une senteur de rasta rocket, cette année. Merci pour ce 6 décembre de derrière les fagots que tu nous a réservé, ô Grand Saint, dans cette si belle arena qu'est Forest National quand le son est au top. Et quel son, quel top ce 6 décembre lors du sound check de TRIGGERFINGER. Plantés au milieu de l'immensité de la salle vide, seuls au monde, c'est comme si nous assistions à un show privé de TRIGGERFINGER rien que pour nous, rien que pour nous tout seuls. Plus d'une heure durant en cette fin d'après-midi, le trio nous délivre quasi un set avant d'être rejoint on stage par… Gordie JOHNSON himself. Ces gredins de TRIGGERFINGER nous réserveraient-ils bel et bien une surprise ce soir avec la complicité de mister BIG SUGAR qui les rejoindrait sur scène !? Et de fait, ce dernier ne va pas tarder à nous le confirmer… Thanx again, Saint-Nicolas !
Le sound check de TRIGGERFINGER terminé, nous sommes invités à suivre Gordie JOHNSON dans sa dressing room. Nous atteignons sa loge après avoir arpenté les entrailles taggées de la salle et satisfait à plusieurs contrôles. Des cerbères postés à chaque coin de couloirs et devant chaque porte laisseraient penser que c'est Obama en personne qui se produit ce soir sur la scène de Forest. Nouvelle surprise du Grand Saint barbu à la mitre rouge : le band au grand complet est en train de se relaxer dans la vaste loge qui leur est attribuée. Notre tête-à-tête avec Gordie Johnson ne se déroule donc pas dans l'intimité attendue, mais au contraire avec tout le band en background et dans la joyeuse ambiance que nos trappistes – spécialement apportées pour l'occasion – contribuent à relever. L'occasion d'expliquer aux Canadiens que la german strong beer qui les a semble-t-il "assommés" la semaine dernière en Allemagne – comme l'illustre leur Facebook – n'était qu'une vulgaire… Stella Artois ! Après cette lagger de gamins, place à de la véritable bière d'Hommes – il faut faire leur éducation zythologique, à ces Canadiens.
L'entrevue se poursuite néanmoins au vin – le temps que les trappistes refroidissent. Content, le leader de BIG SUGAR, content de retrouver à nouveau la Belgique: lorsque nous lui narrons ce Booggie Town Festival du 1er mai 1998, il s'emporte dans un grand éclat de rire quand nous lui racontons notre surprise de le voir débarquer à l'époque devant un véritable mur de Marshall qui avait été dressé sur la scène: the good old time ! Les gens fuyaient les premiers rangs… Depuis lors, Gordie Johnson a bien changé (physiquement…), diversifiant ses tendances et influences noyées et malaxées dans un reggae-blues graisseux aux relents de ska qui ne renie néanmoins pas la puissance qui a toujours caractérisé le son BIG SUGAR.
Cette évolution demeure pour lui naturelle, liée à ses rencontres et goûts musicaux du moment qui n'ont fait qu'imbiber l'éponge musicale qu'il se revendique être. Et pas question de lui parler de "canadian touch" ou d'"american touch" dans son/ses style(s): il n'en a que faire. Reste que pour nous, le southern rock qu'il développe avec ses autres bands n'est sans doute pas étranger à son installation dans le sud des Etats-Unis. Quant à maintenant peut-être jouer un jour à la Jamaïque, tournée qui manque à son pedigree, c'est une autre histoire…
Le play boy d'antan, égérie d'Hugo Boss, aurait-il viré sa cuti pour devenir aujourd'hui cow-boy? Un sourire en coin, Johnson reconnait qu'il a effectivement troqué la soie pour les wranglers et les escarpins pour les boots. Si quelques costumes griffés l'ont néanmoins accompagné lorsqu'il quitta le Canada pour emménager dans son ranch sous le soleil texan, son coeur reste cependant canadien et ses attaches bien à Toronto. Sa Gibson double-neck demeure d'ailleurs un stigmate de ses débuts dans la métropole canadienne: souvenir d'un beau soir où, nous raconte-t-il, Alex Lifeson (RUSH) la lui mit entre les mains. Depuis, elle ne les a plus quittées.
L'homme poursuit sa carrière multi-instrumentiste dans quantité de formations plus ou moins éphémères, plus ou moins permanentes qu'il a fondées ou rejointes, et aux répertoires éclectiques (Grady, Wide Mouth Mason, Sit Down Servant !, Alkaline,… ). Mais le leader de BIG SUGAR nous rappelle qu'il est aussi producteur à ses précieuses heures non pas perdues mais ô combien judicieusement exploitées. Gov't Mule, The Black Crowes et Nashville Pussy pour n'en citer que trois que nous apprécions plus particulièrement parmi d'autres, figurent notamment à son catalogue. Mais BIG SUGAR, en version acoustique, gospel, reggae ou en version distorsion & Marshall, demeure néanmoins son centre de gravité et sa marque de fabrique. Beaucoup d'amateurs de TRIGGERFINGER ne connaissent d'ailleurs le band à Gordie Johson que parce que TRIGGERFINGER s'en revendique comme principale source d'inspiration. Et avoir les deux bands de concert(s) sur la même affiche à l'occasion de cette tournée européenne semble réjouir autant les uns que les autres ! Oui, BIG SUGAR a-do-re TRIGGERFINGER. Oui: TRIGGERFINGER a-do-re BIG SUGAR. Love is love. Are you ready, Brothers & Sisters…?!.
Avant de se quitter – ou plutôt avant d'accompagner BIG SUGAR à leur soundcheck – Johnson nous répond qu'il y a peu de chance qu'ils performent ce soir une version francophone de l'un ou l'autre titre. Ces versions spécialement éditées pour le marché québecois n'ont pas traversé l'Atlantique, et même s'il est dans les habitudes de BIG SUGAR de ne pas avoir de set-list pré-établie, il y a peu de chance qu'ils s'exécutent ce soir en français comprenons-nous. Qu'importe après tout, carpe diem: profitons du cadeau complémentaire de Saint-Nicolas qui prend la forme d'une pleine heure de soundcheck BIG SUGAR dans l'intimité d'une vaste arena déserte. Il est des instants riches, précieux et uniques dans une petite vie d'anonyme…
20h00. Forest National n'est pas encore totalement rempli lorsque débutent les 45 minutes que durera le set de BIG SUGAR. Alternant les remerciements tantôt dans un parfait néerlandais, tantôt dans d'irréprochables "Merci Bruxelles", Gordie Johnson nous réserve une set-list éclectique comme l'est son cheminement et son évolution musical(e). Il nous avais promis tout à l'heure nous réserver l'honneur d'une compo qui figurera sur leur prochaine galette, et c'est chose faite. Double-neck, distorsion, harmonica, rap, reggae, saxo, dreadlocks, blues, rasta et décibels: le cocktail explosif BIG SUGAR a fonctionné une fois de plus. A l'instar du 1er mai dernier, au Roots & Roses Festival. Vivement le printemps prochain, puisque Johnson nous confia plus tôt dans l'après-midi leur retour début 2015 sur le Vieux Continent. Alleluia – sabrons les trappistes et tuons le veau gras !
Place nette est ensuite faite pour TRIGGERFINGER , météorite qui semble ne pas être éphémère : le trio confirme tout le bien qu'on pense de lui, et ses tournées européennes successives sold out asseyent son succès. Les groupes belges à stature européenne (voire à carrure mondiale ?) capables dans la durée de remplir Forest National et le Sportpaleis se comptent sur les doigts d'une main (excusez-nous de parler rock, pas de Stromae ni de Franck Michael…). TRIGGERFINGER est de ceux-là et fait partie des ces happy few.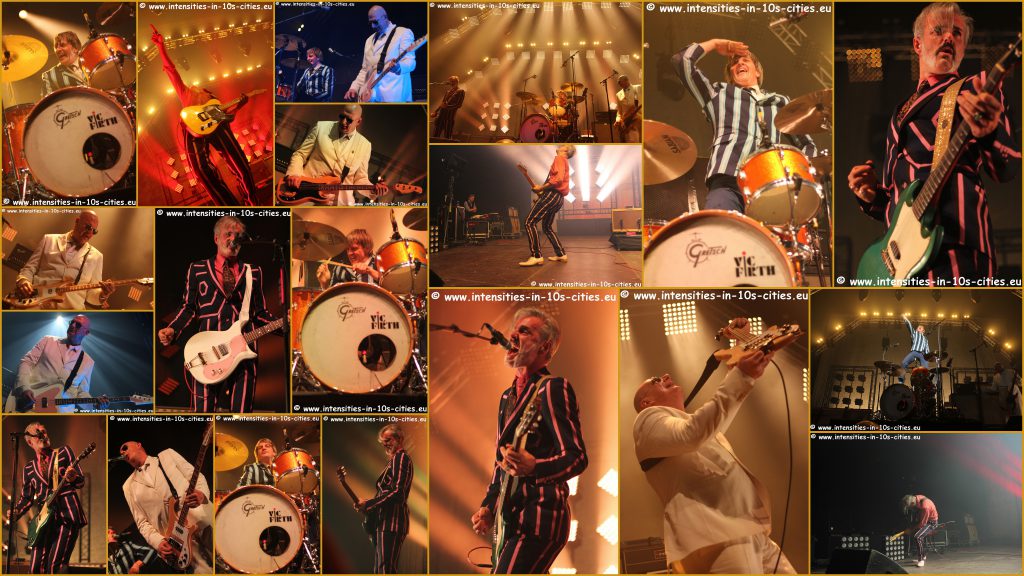 Toujours au plus près du public, c'est quasi frontstage que le groupe s'installe comme à son habitude sur la scène pourtant immense de Forest, avec une batterie alignée sur les deux autres instrumentistes. La démonstration, le show, l'explosion durera deux heures dans un Forest National (configuration Club) plein à craquer, portant à ébullition et embrasant un public certes conquis d'avance. Mêlant le panache au show, le show à l'esbroufe, l'esbroufe au talent et le talent au succès, TRIGGERFINGER demeure probablement ce que la scène belge rock'n'roll a enfanté de plus talentueusement déjanté et réussi – toutes époques et toutes décennies confondues.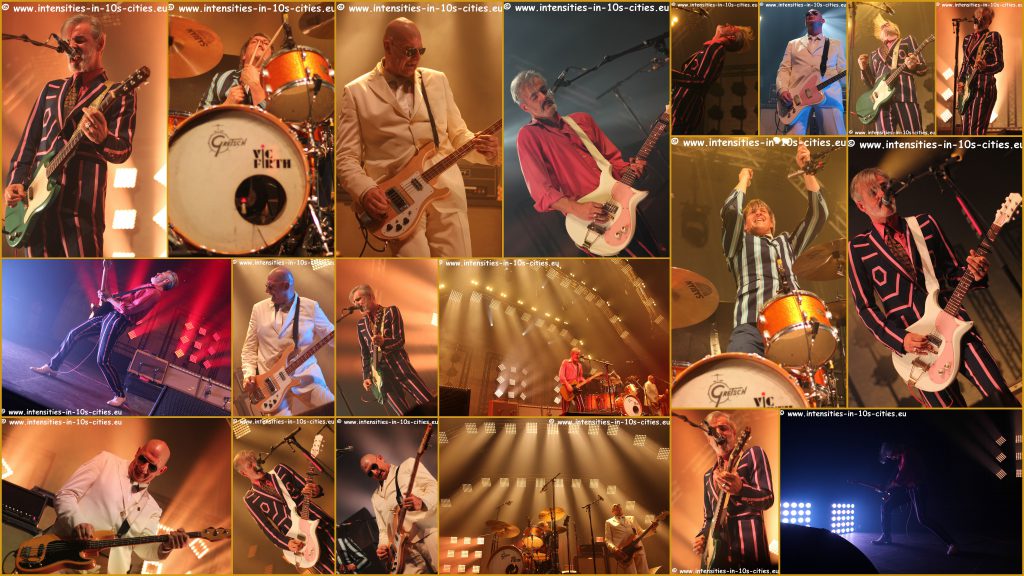 On adore la dégaine chico-décadente du trio anversois, les tempes grisonnantes de Ruben Block, croisement improbable entre George Clooney et Lemmy Kilmister. Des riffs énormes jaillissent de sa Gretsch tandis que la la folie « Keithmoonienne » de Mario Goossens nous subjugue tout autant que Monsieur Paul se la joue Pink Panter: leur heavy/stoner/blues tantôt lancinant, tantôt lourd, est tout simplement irrésistible et sexy. Oui. La courte présence de BIG SUGAR sur scène aux cotés des Anversois pour deux morceaux sera, pour les connaisseurs et fins gourmets présents, un moment de délectation et de grâce comme peu se présentent : celui où le Maître rejoint l'élève, celui où l'élève honore son Mentor. Celui de la fusion entre les fils spirituels et le géniteur. "Ladies & Gentlemen, we are very honored to have a gentleman who joined the tour a week ago. We were listening to his music before we started the band, and he was a big inspiration for us to start this band. We are really honored and so happy he could join us: please welcome the fantastic BIG SUGAR…! ". Chapeau bas, Messieurs. Et merci Saint-Nicolas.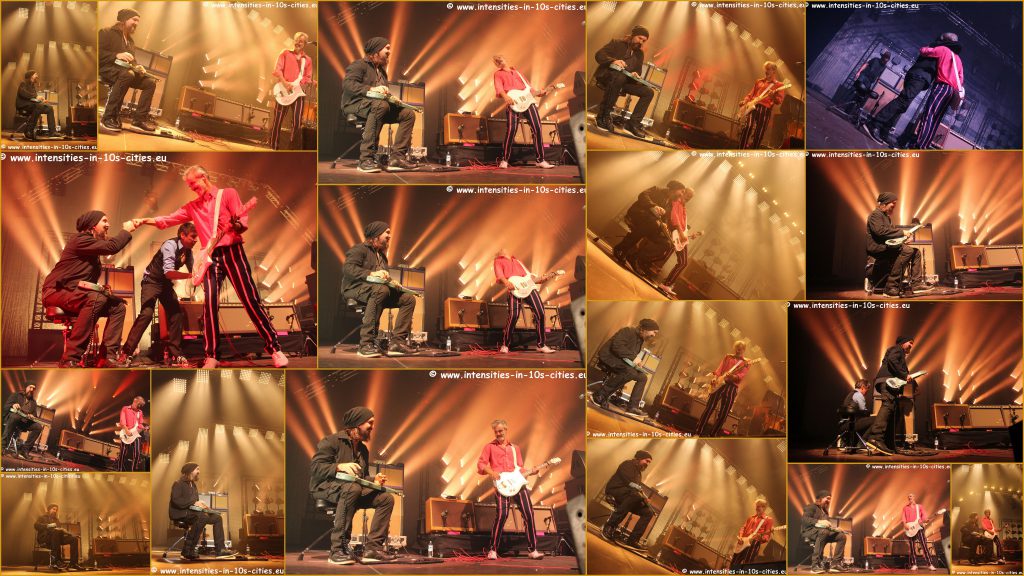 (Un précédent concert de TRIGGERFINGER en texte & photos ? Au : Festival Cabaret Vert 2014)