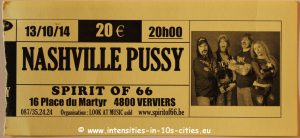 Alleï, une fois n'est pas coutume, inspirons-nous de l'excellente review du dernier album de NASHVILLE PUSSY parue dans l'édition de septembre 2014 de "Classic Rock Magazine" afin de partager l'ambiance de ce 13 octobre 2014 dans la fournaise du Spirit of 66.
Let's go !
"Unashamed party animals, NASHVILLE PUSSY haven't sounded this strong since debut album Let Them Eat Pussy in 1998. Atlanta's fiery four-piece clearly don't give a damn, they're just doing what comes naturally – and that means pulling together references from Motorhead, Ted Nugent, Aerosmith and Skynyrd, alongside a huge dose of redneck attitude, while never losing their ribald sense of humour".
"It's obvious on Everybody's Fault But Mine, which owes something to Mountain, and carries on through the Motorhead-fuelled Rub It To Death and Spent. They then hook up the trailer to the ZZ Top snout for Beginning Of The End before getting countrified for Tray For Cocaine, Hooray For Tennessee. This is Skynyrd with tongues in cheek, while Pillbilly Blues hitches a ride to an AC/DC groove circa Let There Be Rock, and Pussy's Not A Dirty Word could belong in the Aerosmith box. Yep, this is loud American rock'n'roll, with no frills, no regrets".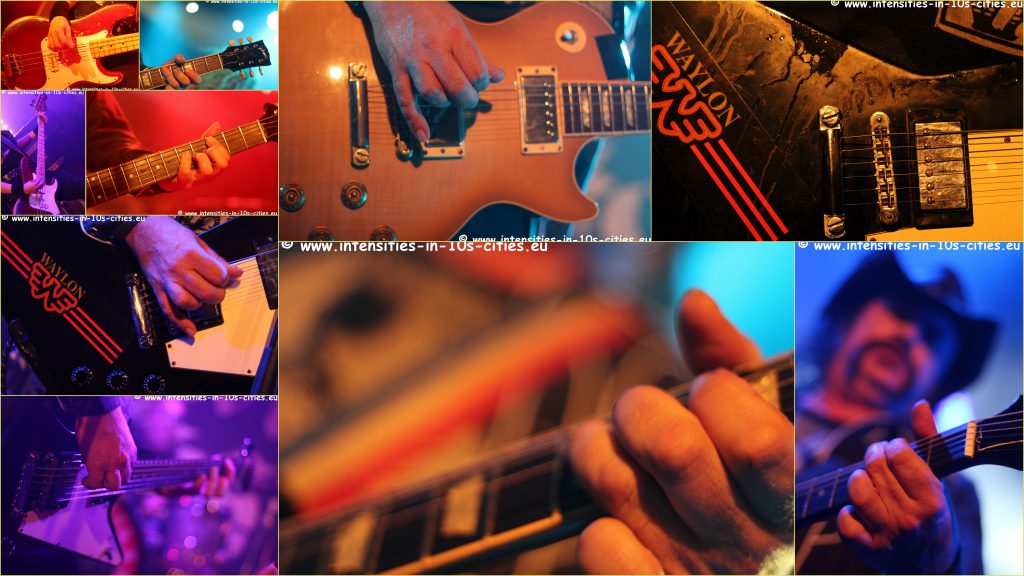 Que dire de plus ?! Qu'ajouter, puisque tout est dit, bien dit et si bien écrit qu'en rajouter ferait tache et caisse de résonance. Et avec d'entrée de jeu Keep on Fucking, la messe était dite dès la première note – même pas besoin d'attendre la consécration, d'autant plus qu'on communiait au Jack Danniels et à la Jupiler sur la scène. NASHVILLE PUSSY reste un band à part, et comme José, a le râble tanné. Ca doit être ça, notre version bien de chez nous du redneck. Le Spirit of 66 n'a jamais si bien porté son nom, avec ces effluves de Jack Danniels qu'on pouvait humer à des lieues.
Est-il besoin de rappeler que NASHVILLE PUSSY fait référence à une phrase que Ted Nugent éructa un beau soir sur scène dans le Tennessee? L'occasion de se passer et repasser ce morceau d'anthologie qu'est Wang Dang Sweet Poontang sur l'abum Double Live Gonzo ! où, tout en délicatesse et en finesse comme à l'accoutumée, le Nuge de dédier de la sorte ce morceau à la gente féminine locale. Ite missa est: allez en paix et ne péchez plus Brothers & Sisters…
(Deux précédentes reviews de NASHVILLE PUSSY en texte & photos : 2002 et 2009)