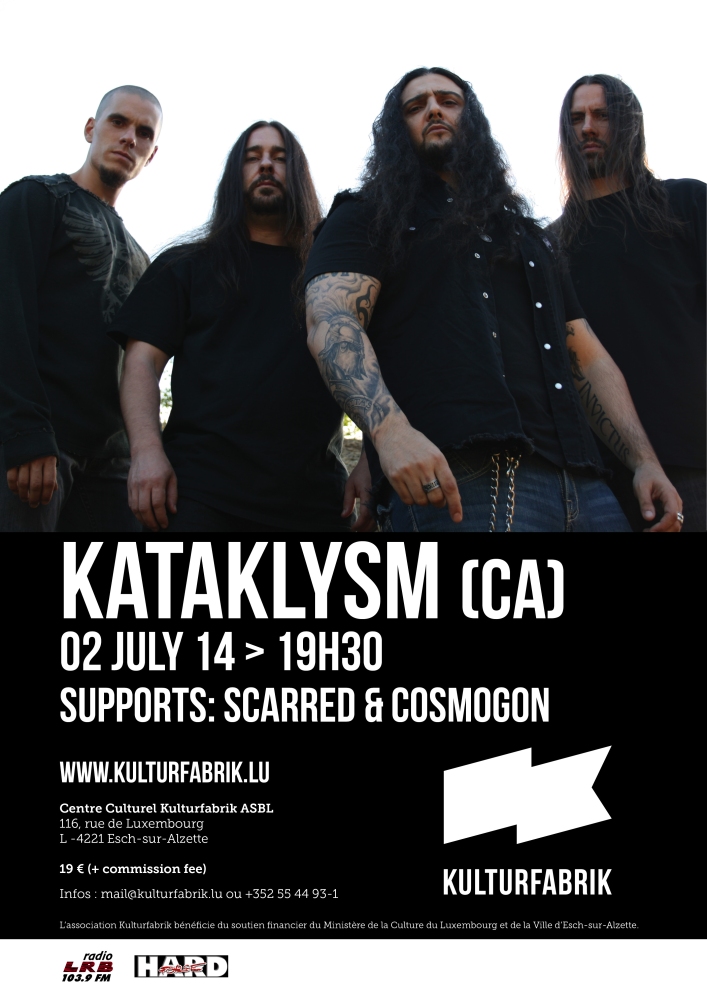 One, two… test… Test. One, two, test. Test… Testicule ! Dès le sound-check, les Montréalais donnent le ton, tabernacle ! Après qu'HATEBREED ait ravagé les lieux la semaine dernière, KATAKLYSM se retrouve face à une barre placée bien haut pour rivaliser avec les Américains. Disons que les Canadiens sortent le grand jeu pour ce faire, mais restent néanmoins une pointure en-dessous de celle de leurs grands-frères US. Ce n'est pas faute d'essayer, mais c'est ainsi : à force semble-t-il de vouloir en faire de trop, KATAKLYSM nous sert ce qui ressemble à une bouillie sonore comparativement à une déferlante HATEBREED qui ne faisait pourtant déjà pas dans la dentelle de Bruges.
Auréolé du prix du Best Metal Artist/Group or Duo of the Year lors de l'édition du SiriusXM Indie Awards de cette année (nous dit-on…), KATAKLYSM s'affiche ainsi dans les milieux autorisés comme un des nouveaux leaders de la scène death metal (dont nous ne sommes pas spécialiste faut-il le concéder). Dont acte. Mais s'ils sont leaders de la scène headbanging, nous on veut bien le croire au vu de ce qu'on a vu et au su de ce qu'on a entendu !
En tout état de cause, une chose est sûre : leurs petits frères luxembourgeois de SCARRED et de COSMOGON qui ouvrent ce soir pour les Canadiens connaissent désormais le chemin à suivre même si It's a Long Way to the Top if you Wanna Rock'n'roll….