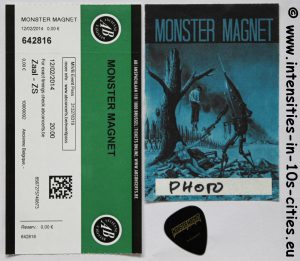 19h45, heure de l'apéro. Sur le plateau, du banzaï nipon de chez nipon: du lourd avec CHURCH of MISERY. Allez savoir s'ils chantent en anglais, en japonais ou en yiddish. Après tout qu'importe: le doom metal tendance psychédélique n'a pas à se torturer les méninges avec ce type de considérations – et nous non plus d'ailleurs. Le hic est néanmoins l'affluence réduite ce mercredi soir: le bon peuple de déserter non seulement CHURCH of MISERY mais surtout de ne pas non plus arriver à l'heure dite pour la grand messe où officie MONSTER MAGNET.
C'est ainsi une Ancienne Belgique bien tristounette mais d'autant plus chaude qui attend Mr Space Lord (Mthrfckr !). En toute toute grande forme, il nous sert sur un plateau d'argent l'intégrale de leur dernier et fabuleux "Last Patrol" une bonne heure durant. Cette dernière perle signée MONSTER MAGNET revêt toute sa dimension ou plutôt toute sa démesure live on stage, passant du rouleau compresseur au kleenex et de la plume à l'enclume en un tournemain.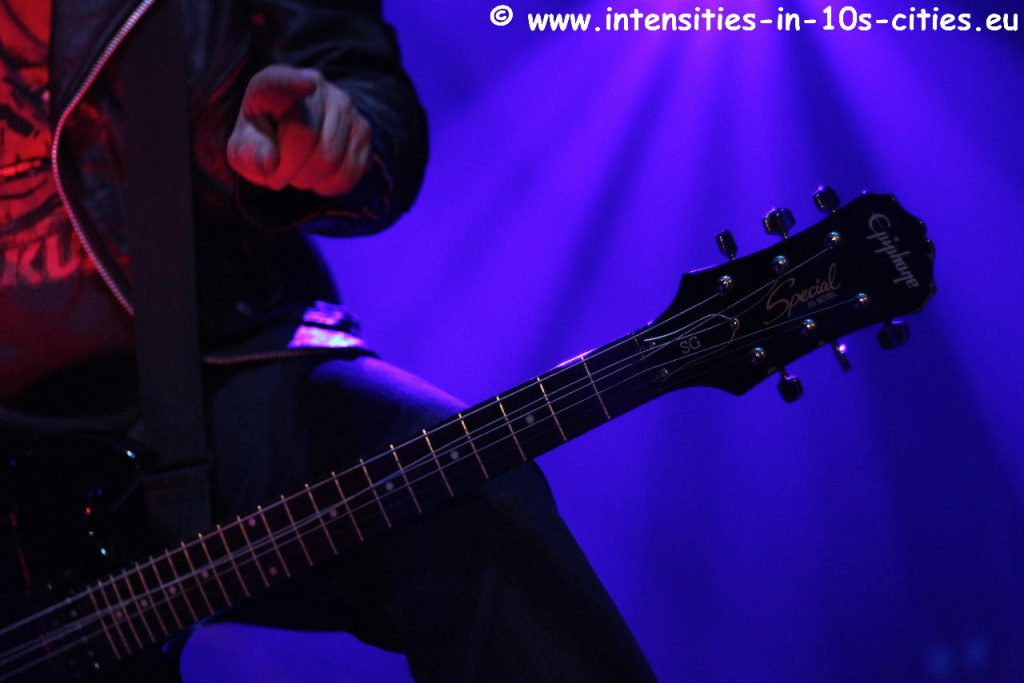 Une performance que le quintet signe avec un retour aux sources qu'il qualifie lui-même comme full-on psychedelic space-rock with a 60's garage feel, a kind of space-noir, tales of cosmic revenge, peaking libidos, alienation and epic strangeness. Tout est dit – et comme il y a un peu plus, on vous le met aussi.
Une bonne heure durant, cette monstruosité est livrée toute chaude telle que sortie du cerveau fou de Dave Wyndorf. Son visage revêt un masque d'autant plus dantesque que les halogènes rouges amplifient leurs effets. Demeurant au centre de toutes les attentions, Wyndorf reste flanqué de ses deux lead guitars puissantes et solides, elles-mêmes soutenues par une rythmique aussi lourde que littéralement plombante. Comme à son habitude, il passera une partie du concert dos au public, jouant de sa guitare on ne sait trop quoi ni comment avec toute la machinerie disposée sur sa table magique : balançant toute sa sauce à effets psychédéliques tandis que les deux leads rivalisent de part et d'autre de la scène durant de longs duels, la marque de fabrique estampillée MONSTER MAGNET nous livre en boucles ce groove hypnotique et ces loops redondant et saoulant qui donnent le tournis. Ou la gnack, c'est selon.
La camisole de force attend le public à la sortie – et il y en aura pour tout le monde vu la triste affluence: jamais il nous avait été donné de contempler avec tant d'amertume l'Ancienne Belgique en deuil. Les tentures noires occultent les galeries supérieures et le balcon comme pour conférer davantage d'intimité à une salle indigne du MAGNET. Les absents ont toujours tort ; les archives de l'AB (et Intensities in 10s Cities) leur rappelleront bien vite que la prestation de ce soir était à la démesure de l'assistance clairsemée : sidérale (normal allez-vous dire, pour du space-rock). Stoner forever (… Mthrfckrs).