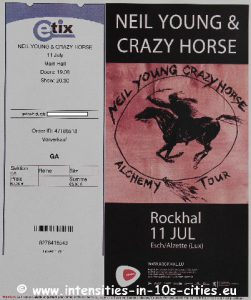 Il nous faut reconnaître, chers Amis, que nous vivons la première – et probablement la dernière – décennie durant laquelle nous avons le rare privilège de côtoyer sur scène des monstres sacrés, que d'aucuns appelleront péjorativement mais de manière peut-être réaliste des papys du rock. A cet égard, Neil YOUNG fait partie des premiers nommés, avant d'être peut-être catalogué plus tard dans la seconde catégorie lorsqu'il n'aura plus le feu sacré dont il fait une brillantissime démonstration ce soir encore. Dans les décennies à venir, ceux qui arpenteront encore la scène à 60, 70 ans ou plus si affinités ne seront plus que des has been ou que de simples performers tout ce qu'il y a de plus banal, l'Histoire du Rock ne pouvant se répéter et ne gratifiant du titre de monstre sacré que ceux qui ont eu la primeur de cet instant, de cette génération, de cette décennie.

Comme pour se faire pardonner de nous avoir fait subir un inter-mède inter-minable avant de monter sur les planches, le bougre d'Ontario débute par un flamboyant "Love and only love" – LE morceau qui m'a explosé à la figure in illo tempore, découvrant par-là toute la puissance, toute la démesure et toute la Neil YOUNG's touch. Ce prélude à une première heure d'anthologie sera suivi d'une seconde heure un peu plus inégale – moins électrique, dirons-nous – avec quelques langueurs/longueurs dispensables. Le tout plus que saupoudré de quelques morceaux de bravoure tirés de sa dernière galette featuring Crazy Horse qu'il retrouvait pour l'occasion et qui l'accompagne ce soir live on stage. Clin d'oeil à l'actualité ou coïncidence de derrière les fagots, le show débute par l'hymne grand-ducal. Neil YOUNG, Crazy Horse et une partie du crew, découverts, se tiennent au garde à vous ou main sur le coeur face à un public pour le moins interloqué, un immense étendard tricolore drapant le fond de scène. Humour made in Ontario ou manière de célébrer à la mode canadienne la première véritable crise politique de l'histoire du Grand-Duché…?!
On ne se refait pas, et Neil YOUNG particulièrement à son (grand) âge. A l'exception des moments où les vocals imposent sa présence au micro face au public, le Jack Nicholson du rock passera tout le reste des 2h25′ de concert à mouliner méchamment face-à-face avec ses deux comparses guitare-basse. Parfois presque manche contre manche, les trois compères se tiennent dans un triangle d'un mètre carré tout au plus (calculez-en le côté en sachant qu'il s'agit d'un triangle équilatéral dont la base est disposée parallèlement et au pied du podium de la batterie…). Le son et les harmoniques que le YOUNG sort de sa Gibson demeurent extraordinaires durant ces interminables et jouissifs moments de délire-distorsion et ces dérapages parfaitement contrôlés – à l'image d'une Corvette survitaminée en plein drift, basculée à 45° dans une courbe sans fin à 300 à l'heure. On en redemande, on en redemande – même si quelques têtes grises dans l'assemblée quittent les lieux en cours de set, semblant sans doute trouver le bougre quelque peu trop bruyant/brouillon en comparaison d'autres moments plus intimistes du style "Blowing in the Wind". YOUNG reste fidèle à lui-même, et c'est pour cette raison que la Rockhal a fait salle pleine ce soir: "Thank you, audience" sera quasi le seul mot que l'homme au chapeau adresse personnellement au public qui l'aura vu ce soir davantage de profil ou de dos que… de face. Chapeau bas, Monsieur YOUNG : vous restez (presque) parfait. Keep on Rockin' in the Free World !