(Autres photos & commentaires sur www.intensities-in-tens-cities.eu – Chapitre 1 : The Vintage Years 1978 – 2011)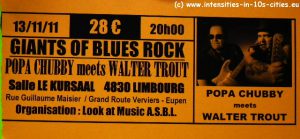 Deux Giants of Blues Rock pour le prix d'un. C'est en résumé le super-deal de ce soir, ou en tous cas ce qu'on peut appeler "un prix de gros" au vu des deux monstres à l'affiche ce soir dans cette superbe salle qu'est le Kursaal à Limbourg. Deux poids lourds (surtout le New Yorkais !) du blues-rock ricain : Walter HardcoreBluesRock TROUT et Popa Meatloaf CHUBBY. Lequel des deux ouvrira pour l'autre? Lequel des deux mettra toute la pression sur l'autre…? Quelques dates sont à l'agenda de cette mini-tournée européenne que les deux guitarmen s'offrent, alternant leur ordre d'entrée en scène d'un soir à l'autre.

Ce soir, ce sera au tour de Popa CHUBBY d'ouvrir les hostilités et de sonner la cavalerie : une heure et demie d'un concert sans surprise (ni bonne ni mauvaise) qu'il passe assis sur son siège en face de moi, sans lever ses quintaux de tout le set. Mais qu'importe, finalement : sa Fender vintage reste de la dynamite et il sait fichtrement comment faire parler la poudre même sans bouger son popotin. Si ce n'est pas à un Dalton qu'on apprend à manier le Colt, ce n'est pas à un CHUBBY qu'on apprend a titiller les limites de la Fender : ce soir, ce n'est pas Limbourg, c'est pas New York, c'est tout simplement un festival, un feu d'artifice. C'est bleu, c'est rouge, c'est vert, c'est beau, c'est bon, c'est… Broadway !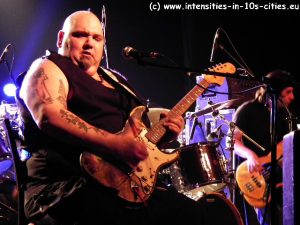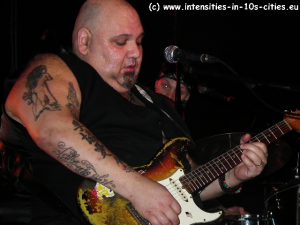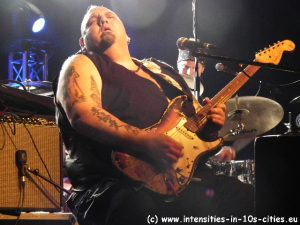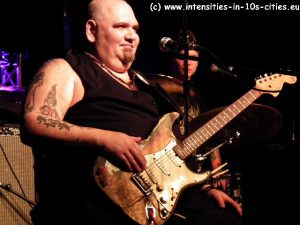 Mais alors que je pressentais un raz-de-marée du Popa prenant le dessus sur le Walter, voilà-t-y pas que cette seconde partie de soirée me (sur)prend totalement à contre-pied. C'est en effet un Walter TROUT chaud à point et totalement déchaîné qui déboule sur scène et assure LE spectacle – et quel spectacle ! Son traditionnel Hammond est bien présent stage right et assure un remplissage sonore gouleyant et hot comme une chaude gaille, qui complète à merveille – s'il le fallait encore – une guitare virevoltée. L'ensemble est servi par un batteur pour le moins balaise aux fûts, et à la hauteur d'un bassiste exceptionnel (dont le t-shirt donne d'ailleurs à lui seul le ton et le tempo de ce blues-rock à la Walter TROUT). Ce mec, ce doit être l'enfant caché des amours secrètes entre Mme Hendrix et M. Vaughan lors d'une partouse avec M. Nugent et Mme Winter, c'est sûr.

Comme de bien entendu, Popa et Walter nous offrent un jam d'une bonne vingtaine de minutes : un duo (duel ?) puissant comme un boeuf, subtil comme un papillon et aérien comme un B52, qui restera assurément dans d'autres an(n)ales que celles de la feuille paroissiale locale. Un moment, un grand moment qui doit compter pour les murs du Kursaal. Le CHUBBY quittant la scène pour la seconde fois ce soir, TROUT de poursuive seul son one-man-show de derrière les fagots : s'il cause comme il joue, sûr que lors des réunions de famille on ne doit pas savoir en placer une à table. Le Kursaal est sur le cul alors que la nuit est déjà bien avancée : lumières on, switch off, lights out, low sound… bar open. Des affiches pareilles, on en redemande, mazette ti ! (et non, definitively non, je ne suis pas en short ce soir – ceci pour répondre à l'étonnement de l'ouvreur… 😉