(Autres photos & commentaires sur Intensities in Tens Cities – Chapitre 1 : The Vintage Years 1978 – 2011)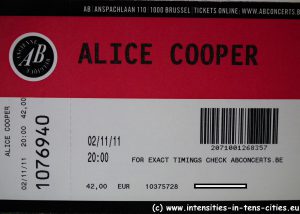 Je me faisais déjà la réflexion vendredi dernier à Forest National, lorsque The TREATMENT ouvrait pour MOTORHEAD: comment un groupe peut-il de la sorte véhiculer l'intégralité et la lourdeur des clichés éculés, ringards et usés jusqu'à la corde du hard/heavy des années 80?! C'est une prouesse: une telle exhaustivité relève du véritable exploit : dans les gimmicks, les attitudes, les fringues et le look, rien strictement rien ne manque à la panoplie du parfait adolescent chevelu et boutonneux en quête d'identité et d'image ! Deux fois The TREATMENT (sponsorisés par Jägermesiter, svp !) en moins d'une semaine, ça me suffit – même si, musicalement, tout n'est pas à jeter (si ce ne sont les vocals, non peut-être ?!).
The Coop is back avec son No More Mr Nice Guy Tour 2011 dans une Ancienne Belgique sold out depuis le printemps dernier, presque 10 ans après son dernier passage ici-même. Alice, ma belle Alice, que de belles surprises musicales tu nous réserves ce soir en allant puiser quelques surprenantes pépites (Halo of Flies, Clones,,…) jusqu'aux tréfonds de ton répertoire de l'époque où tu étais déjà comme aujourd'hui ! Tu nous offres un show parfait avec l'habituelle panoplie d'ustensiles et autres costumes ou mise(s) en scène théâtrale mais sans… excès, si, si ! Ne manquent évidemment pas à l'appel ta fanfreluche que tu cajoles durant Only Women Bleed avant de nous la massacrer, la guillotine qui te tranche le scalp, ton sabre, ton boa, ta camisole de force, ton Frankenstein, ton haute-forme… Bref, rien ne manque à la solennité de l'événement ni à la théâtralité du moment, le tout parfaitement servi pas pas moins de trois (!) lead guitars – dont une charmante poupée: la Belle et la Bête…
Un solo de batterie impressionnant et même créatif, pourtant tout en puissance à mettre à l'actif d'un batteur épatant (ça n'arrive pas tous les jours…), accompagné par un bassiste tout aussi maousse costo. Bref, un jeune band soudé et compact au possible et qui sert un Alice 3×20 en belle et grande forme, arborant même nos couleurs (encore) nationales lors d'un bouquet final exceptionnel (Elected): Alice tient haut et droit notre bel étendard noir-jaune-rouge, revêtu du maillot de notre équipe (encore) nationale de football. L'occasion rêver pour Vincent Furnier de nous adresser un clin d'oeil au passage sur la situation politique du pays, mais d'enchaîner bien vite le refrain qui précise bien sûr I don't care… Après MOTORHEAD qui arborait sur scène une grande bannière "Belgique" la semaine dernière à Forest, on ne peut pas dire que les séparatistes sont à l'honneur ces temps-ci sur la scène rock anglophone !
Juste avant ce puissant rappel, The Coop nous gratifie d'un autre savoureux clin d'oeil, au Floyd cette fois, en intégrant le refrain d'Another Brick In The Wall dans son "School's Out" à lui bien évidemment ! Il n'y a pas à dire, un concert d'Alice est toujours une surprise ; je ne me souviens pas de deux mises en scène identiques d'une tournée à l'autre, de deux set lists semblables, de deux théâtralités identiques. Et, comme le bon vin, plus il vieillit (?) plus il s'assagit (?), plus ses shows deviennent sobres (?) et plus encore il en devient appréciable, délectable, admirable et tout simplement remarquable : total respect, Coop'. Ce n'est pas de la sensualité qui transparait de tes prestations, Vincent, c'est un mélange de douceur suave et de senxsualisme torride. Y a pas à dire, mais Detroit a vraiment enfanté ce qu'on a fait de mieux (ou de pire, c'est selon) aux USA fin 60's & début 70's. Et pendant ce temps, ma petite Malou – quasi 6 fois plus jeune qu'Alice – confortablement installée aux premières loges, lutte contre le sommeil pour son premier "vrai" show,..