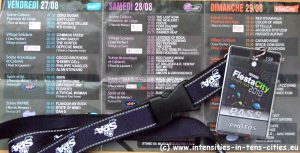 J'ai toujours trouvé du plus haut ridicule ces photographes qui, te bousculant presque, précipitent tout à coup leurs objectifs sur le bassiste, sur le batteur ou sur le clavier qui se lance dans un solo… comme si les photos tirées à ce moment précis avaient d'autres saveurs ! C'est presque faire injure au jeu de ces musiciens en le réduisant à quasi néant à tous les autres moments. Mais soit, la nature – ou plutôt la bêtise – humaine est sans doute ainsi faite. Le Fiesta City Festival 2010 reste éclectique au possible, comme son affiche le précise pour celles et ceux qui en douteraient encore: 80 concerts sur 3 jours et 6 scènes, que je n'arpenterai pour ma part que le samedi. En commençant fort d'ailleurs, avec un FOCUS dont le line up comprend deux membres originaux remontant à la fondation du groupe fin des sixties: Thijs van Leer & Pierre van der Linden. Rock progressif en grande partie instrumental, c'est un voyage dans le temps que le groupe néerlandais nous offre avec une touche vintage du plus bel effet. Un peu décalé et un peu ouf, le set est à l'image de l'Hammond de van Leer: scotché et rafistolé, on voit qu'il a (bien) vécu et qu'il y a de la bouteille là-derrière !
Popa CHUBBY enfile ensuite son costume de maître de cérémonie, et quelle relève mes gaillards : ce n'est pas un maître mais un dieu; ce n'est pas une cérémonie mais une grand messe ! Et ce n'est pas non plus un costume mais bien un blouson de cuir "New-York City Blues" qui annonce franco la couleur, totalement en phase avec un gig bien plus rock'n'roll et moins blues qu'il y a quelques mois à Arlon. Il nous sert un set en effet bien plus énergique et plus graisseux que sa dernière prestation aux Aralunaires, et nous offre une set-list éclectique au possible, à l'image du festival. Séquence "tribute" : deux reprises de haut vol : l'Alleluya de Jeff Buckley (repris certes de Leonard Cohen) et, en clôture, l'aussi surprenant que tonitruant… Ace of Spades de Lemmy ! Le tout saupoudré d'un hommage à la mémoire de Stevie Ray Vaughan dont le Popa se plait à rappeler qu'on célébrait les 20 ans de la disparition hier.
Sacré Popa va: jamais deux fois le même, toujours aussi imprévisible, jovial et hilare une fois qu'il a une gratte en main. Et manifestement fier et satisfait de sa prestation à l'issue de celle-ci, au vu de son large sourire faisant d'autant ressortir le caractère rebondi de sa bonne bouille. Un concert de Popa CHUBBY, c'est comme s'installer à une bonne table : quels que soient le menu et la carte, on attend la surprise du chef en sachant qu'on ne sera de toute façon pas déçu. Et quand le chef nous sort en plus le grand jeu, que du bonheur ce samedi à Verviers…!
Tout passe, tout lasse. Passons donc rapidement sur la prestation de MACHIAVEL qui ne me laisse pas sur ma faim mais bien de marbre. Je me réjouissais pourtant de la perspective de mon premier concert de Machiavel en 35 ans de formation – si, si : il existe encore des Belges qui, à mon image, n'avaient pas encore assisté à un de leurs shows ! J'aurais pu attendre 35 ans de plus… Sauf tout le respect que je porte aux artistes – et plus particulièrement à ceux qui me lisent ici – opinion tout ce qu'il y a de plus personnel et de plus subjectif. Mais bon, c'est ainsi : en tout état de cause, ce samedi soir, les Serpents Noirs ou Machiavel, c'est pour moi du pareil au même (et Dieu sait si les Serpents Noirs m'ont pourtant fait vibrer à une certaine époque… ;-). Le band de l'Homme à la plus belle voix du monde (sic) – celui derrière les fûts – ne m'a pas transcendé, soit. Well….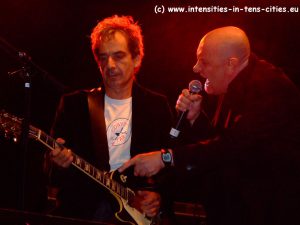 La cerise sur le gâteau s'appelle ce soir CANNED HEAT en formation Woodstock. Verviers accueille en effet le "Canned Heat Woodstock Reunite Tour 2010" puisque les 3 survivants ayant participé aux fameux festivals de Monterey en 67 et de Woodstock en 69 sont présents : Harvey MANDEL, Larry TAYLOR et Fito DE LA PARRA. Un grand moment qui transpire à lui seul l'histoire blanche du rock, du blues et du boogie: les classiques de leurs classiques nous sont servis sur un plateau doré avec une bonhomie qui suinte le blues revival des sixties et la période hippie sans pour autant tomber dans la caricature. Les Papys font de la résistance : résistance à l'usure du temps, résistance à l'oxydation des modes, résistance au caractère versatile des courants et des tendances… Et des papys pareils qui traversent le temps, les âges et les modes, on n'en fait sans doute plus quand on observe ce qu'il adviendra dans les décennies à venir de la bouillabaisse qui caractérise la scène musicale des années 2000. Merci les gars, vous étiez aussi parfaits que dans la boue de Woodstock…
Avant de terminer la nuit au Spirit, petit tour vers une scène annexe et un autre type de revival tout en puissance, sans pour autant sombrer dans le nostalgique ni dans le pathétique mais bien dans l'énergique bon enfant: HIGH VOLTAGE et son tribute to AC-DC. Insouciance et bonne humeur, voire second degré à l'image des 8 faux Marshall en carton qui font office de décor ! Second degré mais prime jeunesse, didju…!