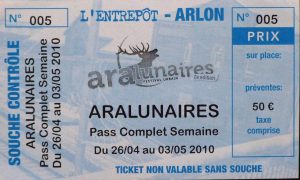 ARALUNAIRES, Jour 6 (et dernier jour en ce qui me concerne, avant un repos enfin bien mérité !). L'Entrepôt est à nouveau sold out ce soir pour accueillir le plus volubile des New Yorkais: l'imposant et impressionnant POPA CHUBBY. En guise d'apéro, STICKY FINGERS BLUES BAND, suivi de l'ALBERT BLUES BAND qui chauffe les murs à blanc. Put on your red shoes and dance (play) the blues, Albert ! Le plus fringant et le plus bruyant retraité de la province – baskets rouges, t-shirt Ramones et jeans seyant – a revêtu son costume de scène pour mener de main de maître un set toujours aussi chaleureux et bon enfant. Le Dr. Richard aux vocals est quant à lui tout binôche d'introduire par ailleurs deux nouveaux morceaux de la future galette des régionaux de l'étape. Great !
L'Albert s'improvisera roadie plus tard dans la soirée en jouant les Dr. Boogie de bon office et prodiguant les premiers soins à la guitare du Popa en plein milieu du set du New-Yorkais. Car, mine de rien, c'est qu'il arrache à la gratte le Popa ! Même s'il nous la joue à la Johnny Winter en restant finalement plus longtemps assis que debout, le gredin (peut-être une question de répartition des masses sur la scène?).
Toujours est-il qu'entre reprises (ah! cet Hallelujah de Jeff Buckley) et pièces originales, Popa reste fidèle à lui-même: simple, jovial, sympathique et chaleureux – bref: ce qu'on appelle un bon gros ! Ses deux heures de show se clôtureront par un duel de batterie avec son batteur, installé pour l'occasion frontstage devant deux caisses et donnant une allure "Tambours du Bronx" à ce final. Chapeau, Mr. Chubby: vous écouter reste un régal, admirer votre jeu guitare un plaisir, et votre sueur un honneur que vous nous faites. Vous êtes mon Meatloaf à moi…!
Chapeau aux organisateurs pour cette semaine de toutes les découvertes et de tous les plaisirs, éclectiques comme électriques – Vivement les ARALUNAIRES 2011, M'sieurs-Dames…