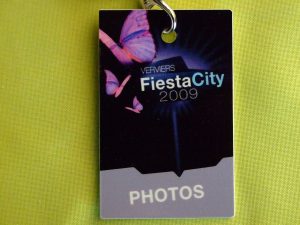 12 heures de faction rock'n'roll avec d'entrée de jeu le gig des PERPETRATORS, trio canadien en droite ligne venu de Winnipeg – ce qu'on ne devinerait pas tant le français dont ils nous gratifient est correct: sympa, les gars ! Chouette set sur la main stage (parlons français comme ces anglophones: sur la grande scène donc) baignée d'un soleil de plomb comme le fil du même nom. Et tant pis pour les absents qui ne savent pas ce qu'ils ratent ! Nos gaillards remettent le couvert en after-party en milieu de nuit sur la scène du Spirit qui leur convient mieux encore que la grande scène du centre -ville. Il n'y a pas à dire, mais rien de tels que l'intimité, la touffeur et la promiscuité d'un club (et quel club !) pour apprécier ce blues-rock-boogie de ce lointain Montana. Mmh: ça hume bon le Canada profond, ici. Vivement qu'on visionne ce concert filmé sous toutes les coutures…
ABBEY ROAD prend le relais, remplaçant au pied-levé un Machiavel ayant déclaré forfait en dernière minute. Moi qui me réjouissais d'enfin voir Machiavel live on stage, non pas que leur production me séduise particulièrement, mais bon: il est des choses qu'il faut en bon Belge avoir vu au moins une fois, et aussi loin que ma mémoire remonte, je ne me souviens pas les avoir vus. Quoique…. ABBEY ROAD coincé entre les PERPETRATORS et Mike SANCHEZ: l'exercice n'est pas aisé, mais le band n'est pas né de la dernière pluie et s'en sort (très) haut la main avec un final à rallonge littéralement ex-plo-sif, comme porté par un public conquis et en pleine Beatlemania. Les Beatles, ce doit être comme le chocolat (ou l'Orval…): même quand on est au régime ou qu'on en est rassasié, on tombe sous le charme, on se laisse aller et l'on se surprend à savourer et à en redemander…!
Mike SANCHEZ, oufti ! La surprise du jour en ce qui me concerne, l'excellente surprise du chef même. L'ayant raté plus d'une fois dans un Spirit surchauffé, je mesure mon erreur. Deux cuivres, une contre-basse, une guitare et une batterie pour accompagner ce fou-furieux posé devant son clavier installé perpendiculairement au public en front de scène. Show chaud. Chaud show. Chaud devant: l'homme hilare et aux doigts magiques nous offre une prestation de toute beauté en mouillant son trois-pièces comme pas deux (pièces) transformé en une éponge imbibée en fin de set. Entre Fats Domino et Jerry Lee Lewis, mon coeur balance! A l'issue d'un court rappel concédé par les organisateurs (je ne sais pas comment le public aurait réagi dans le cas contraire…), il quittera la scène, emportant son clavier sous le bras et fixant rendez-vous au public pour une longue séance de dédicace. Question que j'ai oublié de lui poser: un costume trois-pièces, ça résiste à combien de lavages, M'sieur…?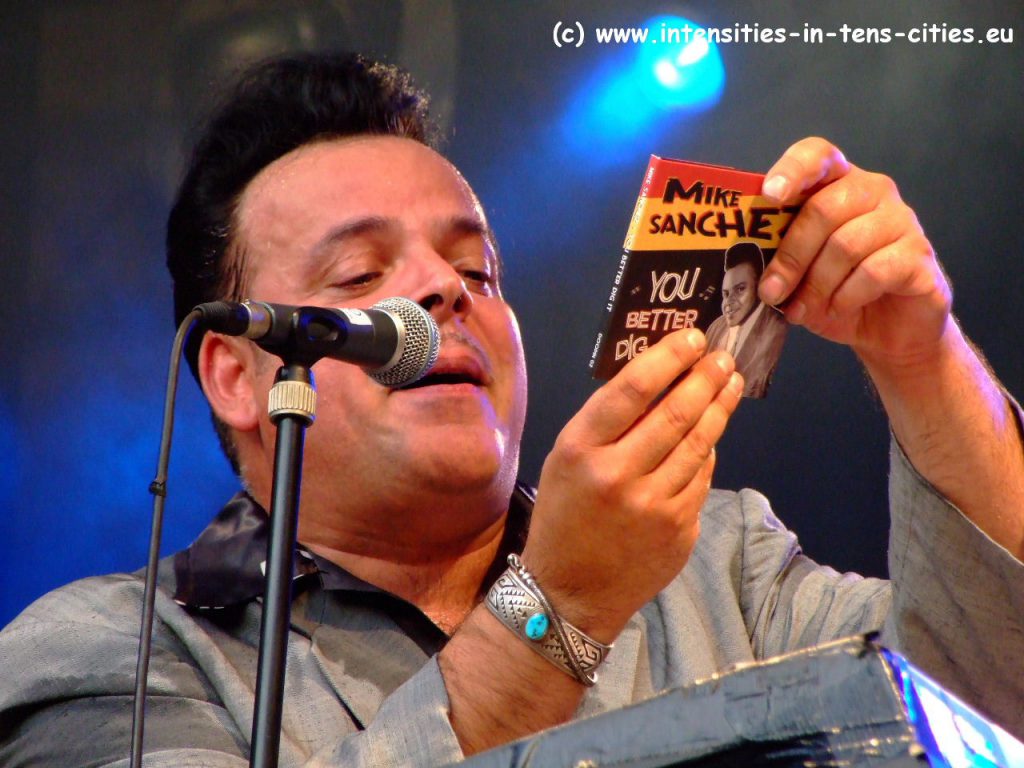 WISHBONE ASH: les habitués de Verviers sont fidèles au rendez-vous. Les standards qu'ils nous offrent également. Le concert parfait itou, idem la set-list – rien à redire: les professionnels sont de la partie. Mais manque pour moi l'éclat magique, le petit grain de folie, le dérapage contrôlé qui fait d'un concert un véritable show. Le quatuor est irréprochable et prend manifestement plaisir à retrouver Verviers qui le lui rend d'ailleurs bien également, mais manquait l'étincelle – ou plutôt elle n'est restée qu'étincelle et n'a pas allumé mon feu. Next time, maybe, next time…. Sorry guys.
SLADE is not Far Far Away: he's back home !  »All right everybody, Let your head down, I want to say everybody get on of your seat Clap your hand and step your feet Get down and get with it » ! Le band reste aussi déjanté qu'il y a 6 mois à Limbourg… et autant qu'à sa grande époque certainement. Même si tout cela n'est peut-être qu'artificiel il n'en demeure pas moins que cette spontanéité, cette fraîcheur et ce bol de bonne humeur sans doute bien orchestrée restent d'apparence si naturelle que c'en est un véritable plaisir. Et c'est le principal pour soulever les foules: aucun tube n'est oublié, aucun refrain n'est ignoré des milliers de spectateurs rassemblés au pied de la grande-scène – et ayant connu pour la plupart les semelles compensées et les autres artifices de la plus kitch de toutes les périodes, celle du glam-rock anglais. Oufti, merci les gars !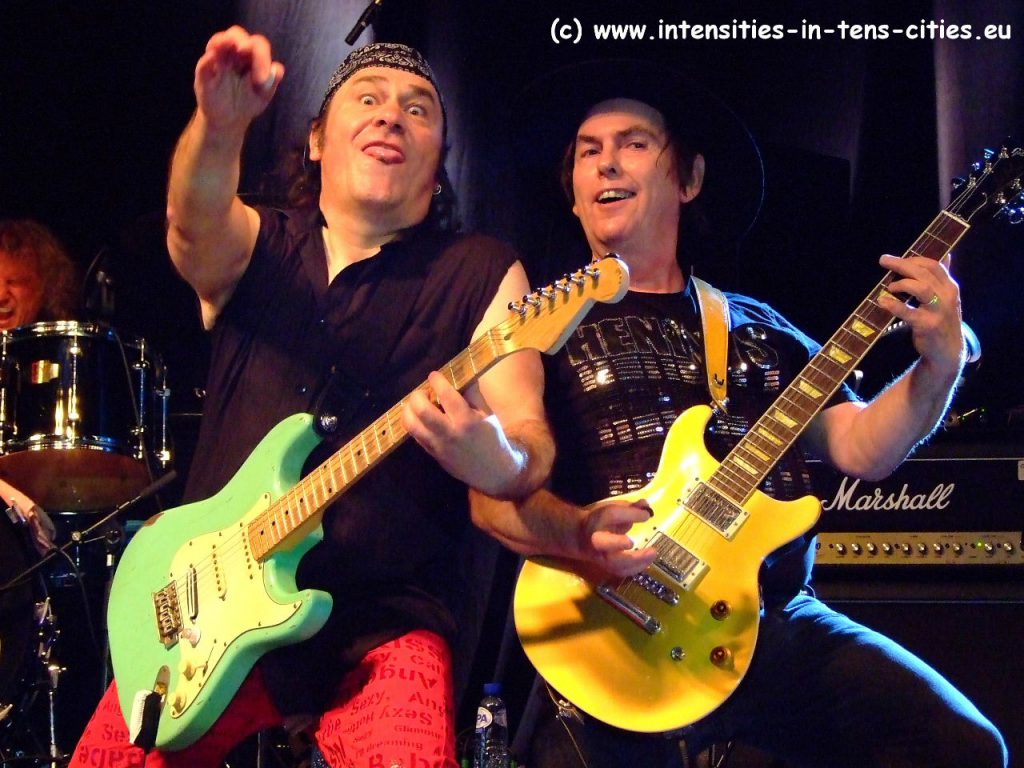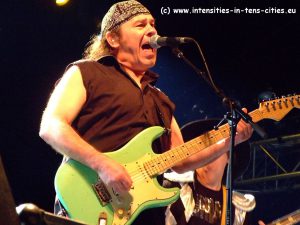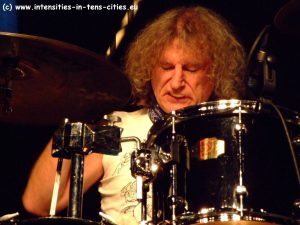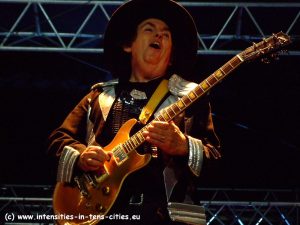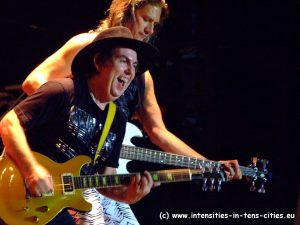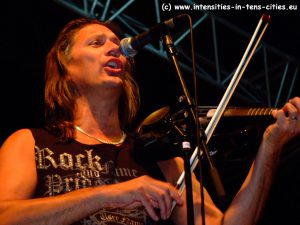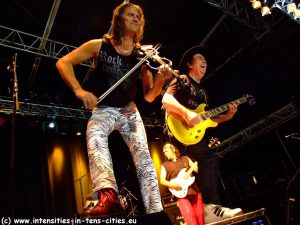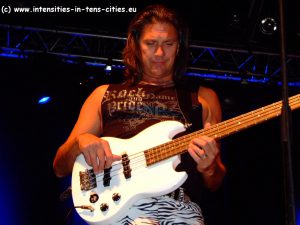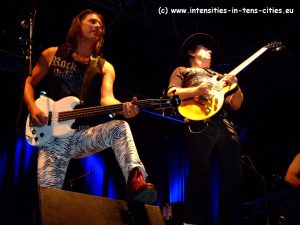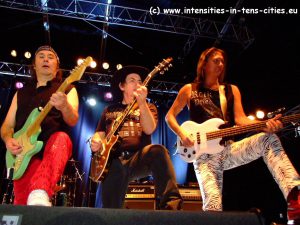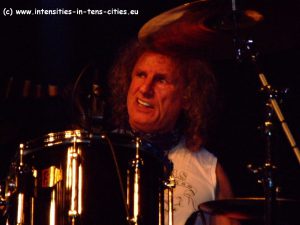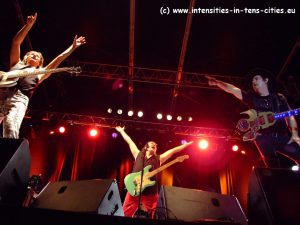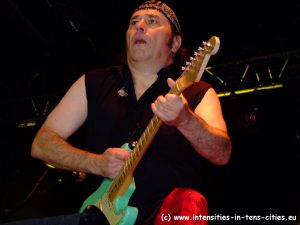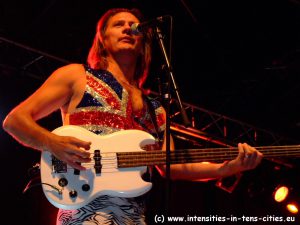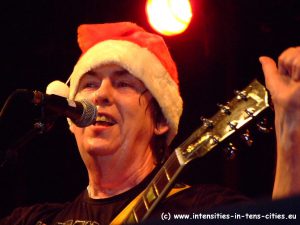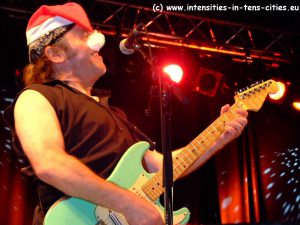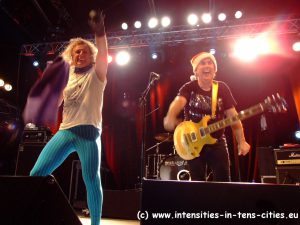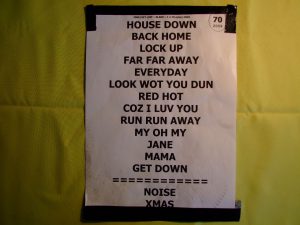 Le show des PERPETRATORS qui remontent sur scène au Spirit en milieu de nuit pour clôturer la journée n'éclipse pas les autres scènes de la ville, ni surtout les autres bands qui ont arpenté la scène du 66, je pense plus particulièrement à Teddy Beer et son rock décalé (déjanté?), et surtout à Loveless Age: chapeau les filles, votre reprise de Moonlight Shadows du grand Rory…..