The Nuge: 2 de 4. Arrivée au Melkweg en plein centre d'Amsterdam en milieu de journée. Un sms de Toby Nugent m'arrive peu avant l'ouverture des portes pour me fixer rendez-vous afin de rencontrer Ted dans sa loge en avant concert. Passage backstage puis arrivée dans la Ted Nugent Dressing Room : le Nuge est seul, assis dans un fauteuil à gratouiller sa Byrdland en mâchouillant un cure dent. Il s'interrompt immédiatement pour tendre une virile poignée de main en arborant un large sourire et proposant à boire et à manger – Toby fait le service.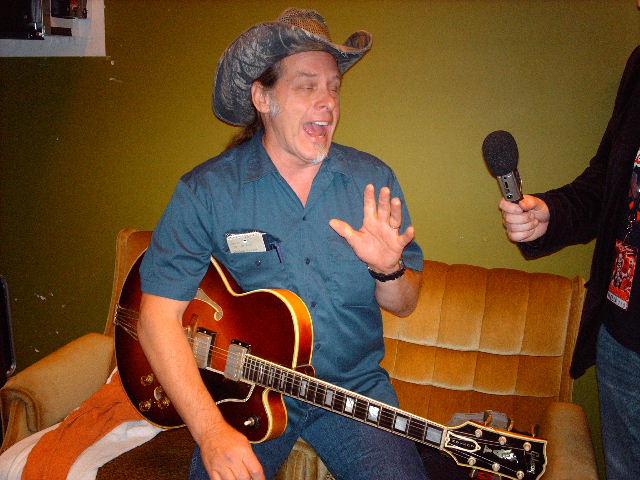 Photos (c) – Use only with mention of www.intensities-in-tens-cities.eu
La rencontre dure une bonne grosse demi-heure en prélude au concert, avec deux journalistes présents également pour un interview. Guère l'occasion d'en placer une, avec le Ted qui est comme à l'accoutumée prolixe et intarissable : une question, une réflexion, et le voilà parti pour 10 minutes de discussion enflammée. Impossible de l'arrêter – c'est à peur d'ouvrir à nouveau la bouche ! Ted se plaint de l'audience essentiellement masculine de tous ses shows européens (et en effet, que de fans féminines aux States !). Mais il se marre surtout en se remémorant et en contant en très long et en plus large encore, illustrant d'images et d'anecdotes à n'en plus finir, le déluge d'hier soir déclenché en Espagne à l'issue de Great White Buffalo qui clôturait son set. Une mini-tornade a ravagé la scène du festival, balayé amplis et baffles, noyé matériel et personnel, déchiré bâches et toiles, avec pour conséquence un festival tout simplement… arrêté à l'issue de la dernière note du Nuge ! Au revoir Deep Purple qui devait lui succéder… Il est fier comme un paon de sa danse de la pluie – qui plus est à l'issue de Great White Buffalo : ça n'aurait pas pu mieux tomber !! Il n'en faut pas plus au Nuge pour se gausser d'être le maître des éléments, le Grand Bison Blanc, le grand Chef Indien qui fait la pluie et le beau temps et qui a la main mise sur les éléments qu'il commande depuis le manche de sa Byrdland. Depuis le temps qu'il le crie haut et fort, il fallait bien un jour que les éléments et les circonstances lui donnent raison ! Il est jovial, le grand Ted, il est hilare et fier de ce qui est arrivé hier en Espagne, il jubile et en est encore plus excité a posteriori… !!
Photos (c) – Use only with mention of www.intensities-in-tens-cities.eu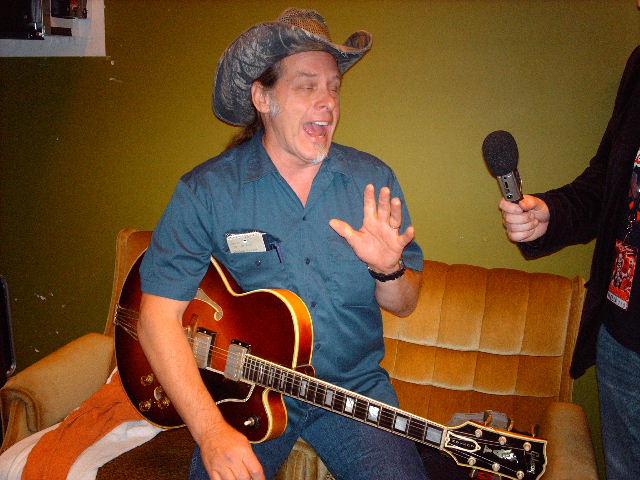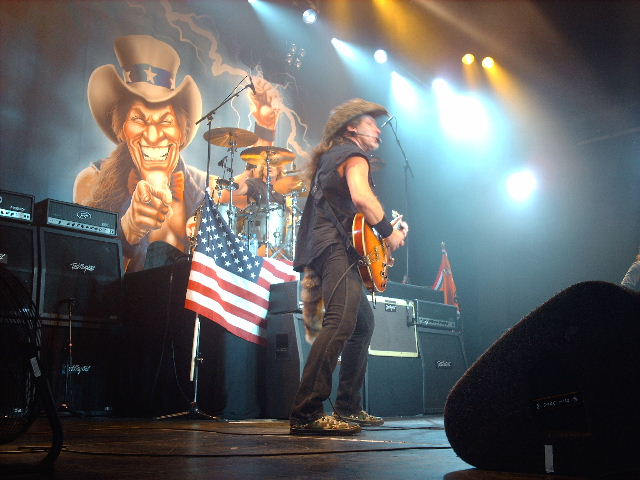 Mais il est temps de le laisser, le concert débute dans 5 minutes à peine et les clameurs d'impatience du public commencent à se faire entendre… Pause photo avec le Nuge qui demande à son fils de prendre mon appareil pour ce faire, tandis que James E. Brown – le photographe attitré de Ted déjà rencontré il y a deux ans lors de sa dernière tournée européenne – fait de même pour le côté officiel. Moments privilégiés d'intimité et de pur bonheur avant de laisser Ted se préparer pour monter sur scène dans quelques secondes. Petit coucou par la loge voisine saluer Mick (le batteur) et Barry (le bassiste) – qui sont déjà venus faire quelques « Hello » et boire un coup en notre compagnie. Le concert sera – subjectivement – parfait et c'est de deux bonnes heures de show qu'il nous gratifie sans relâche, Byrdland après Byrdland, Les Paul après PRS… Suprême bonheur, insigne honneur et rare privilège que d'être à nouveau invité par Toby à rejoindre le Nuge dans sa loge à l'issue du concert: meeting en avant-concert, et greeting en after-show: que rêver de mieux?!

Il y a comme tout à l'heure à boire et à manger dans le frigo et sur le buffet pour les six invités que nous sommes cette fois à être reçus. La discussion sera bien animée et chaude, conviviale et simple. Lui apprenant qu'il joue après-demain avec ZZ Top, Ted semble tout heureux de recroiser leur chemin, même s'il estime qu'ils ne sont plus aussi bons qu'auparavant (sic). Quand je lui apprends également qu'Europe (!!) partage la même scène, je passe le rictus de dégout et les commentaires désobligeants…!! Ted en profite pour revenir sur sa prestation d'avant-hier en Allemagne au sujet de laquelle je le relance. Il me conte toute sa déception à l'égard de MSG qui jouait si froidement, sans cœur ni tripe, ni cœur ni âme. Quand je lui dis que je trouvais en effet cette prestation vide (empty), Ted rayonne en me gratifiant d'un sourire béat comme si j'avais trouvé LE terme qui convient parfaitement à tous ces musiciens qui ne brûlent plus pour leur musique. Car si effectivement Ted se prévaut de quelque chose, c'est bien de vivre et de brûler pour ce qu'il fait – et il le fait de main de maître, qu'on aime ou qu'on n'aime pas le personnage et surtout ses opinions politiques.

Photos (c) – Use only with mention of www.intensities-in-tens-cities.eu
Le moment est venu de se quitter après une bonne demi-heure d'intenses discussions. Ted – toujours assis dans son divan – nous tend la pince et, véritable moulin à parole qu'il est et a toujours été, de relancer la discussion alors que les deux tiers de ses hôtes viennent de quitter la loge ! Nous nous faisons un plaisir de rester dès lors encore un long, long moment en comité restreint avec Ted qui continue de plus belle sur sa lancée. Même Toby, qui a terminé de rassembler les effets personnels de son père, commence à s'impatienter mais me sourit du coin des lèvres avec un clin d'œil tant il connaît le cirque et la ritournelle habituelle avec son père impossible à arrêter. Et puis, le monde à l'envers : Ted insigne l'ordre à Toby de nous gratifier de backstage pass pour ses deux prochains et derniers concerts de la tournée Européenne au moment de nous quitter cette fois pour de bon ! Notre (nouvelle) qualité de European Ambassadors (sic!) commence fort, sacré Ted, va… Nom de dieu, quelle soirée pleine de rebondissements. Direction notre hôtel, avant une bien bonne et belle journée qui s'annonce dès lors demain à Weert, Hollande.
Un petit florilège du Nuge, filmé dans sa dressing room…?
Nuge_EuroTour_07.2008__204.mpg
Nuge_EuroTour_07.2008__203.mpg