The Nuge – 5 de 5 : Parti un peu tard, je me fais surprendre par les bouchons entravant les derniers kilomètres qui me séparent du site du festival implanté dans la campagne hollandaise de Lichtenvoorde. Le temps de passer par la zone VIP prendre possession de mon backstage pass, je n'arrive au pied de la scène principale que pour les dernières minutes du concert de BLACKFOOT. Shit, shit et shit : cela m'attriste réellement d'avoir raté l'essentiel de leur set, les gaillards occupant une grande place pour moi parmi les meilleures formations sudistes au même titre que Lynyrd Skynyrd, The Outlaws, Molly Hatchet ou 38 Special pour n'en citer que quelques-uns uns (photo 1). Etant déjà backstage au moment de la venue de Ted NUGENT sur le site, je taille une bavette avec son fils Toby qui prépare son arrivée… et qui se marre d'autant plus de ma mésaventure irlandaise de la veille que nous nous étions croisés plus d'une fois sur place ! Moi, je me marre en voyant les affaires de scène de son père qui sèchent au soleil après, je présume, un lavage de dernière minute ce jour : pompes et chapeau qui profitent comme nous de la clémence météo de Hollande… ! (photo 2). Rapides salutations avec Ted avant qu'il ne poursuive la conversation avec Greg T. Walker, fondateur de Blackfoot en 1969, sous l'œil amusé de son batteur Mick Brown à l'arrière-plan: ils semblent s'apprécier vraiment, les lascars, cool ! (photo 3). Que tout cela est de bon augure en regard du programme de la main stage (photo 4) !
1.
2.
3.
4.

Le moment venu pour Nugent de monter sur scène, je reste backstage durant toute la grosse heure quart que dure sa prestation : que rêver de mieux ? A ma droite les membres de BLACKFOOT (photo 5), de WHITESNAKE (Tommy Aldridge et Doug Aldrich derrière les guitares du Nuge – photo 6), à ma gauche ceux de URIAH HEEP (photo 7) et de STATUS QUO (photo 8). Et puis, c'est chouette de revoir Tommy Aldridge maintenant batteur de Whitesnake alors qu'il était derrière les fûts du Nuge lors de notre dernière conversation à Montréal en 2000: le monde est décidément petit dans le petit microcosme de la bonne musique !
5.
6.
7.
8.

Bref, que du beau monde autour de moi pour un concert du Nuge de très haute tenue : quelques dizaines de milliers de personnes doivent encore s'en souvenir ! Etant aux côtés de Marylin Brown (une des deux photographes officiels attitrés du Nuge) au moment où elle tire cette photo, c'est sans vergogne et tout à son honneur que je la garde en guise d'illustration – son grand angle donnant un meilleur résultat que mon simple objectif (gasp ! la seconde photo de ce blog qui n'est pas de moi…!).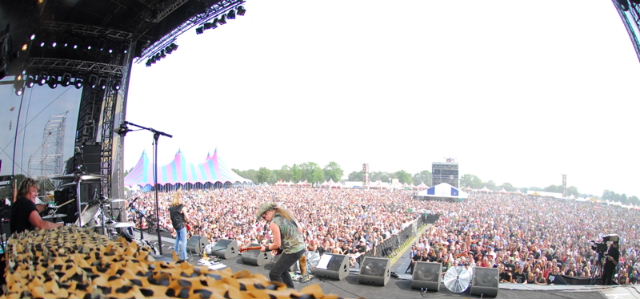 Le show est de toute beauté et le Nuge est impressionnant, électrisé par les dizaines de milliers de spectateurs qui lui font face: ce n'est plus un duel, ce n'est plus un one-man-show, c'est tout simplement Noël en été, c'est Bizance en Hollande, c'est le nirvana sur terre… Bref – un show du Nuge comme les autres, ni plus ni moins finalement, pourquoi est-ce que je m'emballe de la sorte ?!

Après un petit rafraîchissement pour le rappel, c'est avec Great White Buffalo que le Nuge termine – traditionnellement – sa prestation, arborant sa coiffe indienne avant de se précipiter backstage encadré par son fils. Photo de famille prise sur le vif, captée en pleine action: une de mes plus belles photos live pleine de spontanéité, de vérité, de simplicité, de vie – une photo tellement vraie et tellement nature. Father & Son: family spirit…

Le Nuge quitte les lieux un peu plus tard dans la soirée et repart comme il est arrivé. Après quelques derniers échanges et autre poignée de main, il pose pour une ultime photo au moment où il embarque dans la voiture qui est synonyme de fin de la tournée européenne, de fin de l'aventure, et de fin de l'histoire pour moi. Suite au prochain numéro. Ou plutôt lors de la prochaine tournée…
Et en l'attendant, un petit extrait vidéo…:
Fields_of_Rock_06.2006.MPG

Flash-back sur la journée écoulée. Déambulant dans la zone VIP derrière les deux principales scènes, je croise un certain nombre de fois les membres de Blackfoot qui semblent passer leur journée comme moi, à prendre du bon temps, boire un coup et passer de scène en scène observer ceux qui partagent avec eux l'affiche du festival (photo A). Vraiment sympas et cools, ces mecs, vraiment ! La rythmique du Nuge, Mick Brown (photo B) et Barry Sparks taillent une bavette avec un des musicos de Whitesnake (photo C), ceux de Status Quo boivent un pot à l'ombre d'une tonnelle avec Uriah Heep, les membres de Journey s'entretienent avec ceux Blackfoot attablés (photo D); Vandenberg échange avec Whitesnake (photo E) et Doug Aldrich s'échauffe à la gratte avant de monter sur scène (photo F). David Coverdale s'en va se poudrer le nez (photo G) tandis que les roadies profitent d'un repos bien mérité .. sous la scène (photo H). Et moi au milieu de tout ce beau monde…
A
B
C
D
E
F
G
H

Le set de Whitesnake est impressionnant, vécu backstage aux côtés notamment des membres de Status Quo et de Blackfoot toujours aussi intéressés par les prestations de leurs co-listiers. Vandenberg fera une apparition éclair en guest, le temps d'un ou de deux morceaux. L'anecdote du jour : la tonnelle de 2 m² de David Coverdale installée backstage en plein milieu du jeu de quille, au mitan de tout le matos de Deep Purple, équipée d'une commode et d'un matériel de maquillage à faire pâlir de jalousie Barbie elle-même ! Avant le rappel, David et ses compères se retirent backstage le temps de souffler quelques instants – quelques longs instants que David passe dans les bras de sa femme qui en profite pour lui refaire une retouche maquillage…

Status Quo prend ensuite le relais sur la scène principale tandis que Journey puis Uriah Heep se relaient sur la seconde scène. L'anecdote Status Quo ? Je l'adore : durant le solo de batterie qui ponctue le concert, les guitaristes et bassiste se retirent backstage laissant toute la scène pour le seul batteur en train de taper sur ses fûts. Francis Rossi, venant se placer à côté de moi, en profite pour griller une rapide cigarette derrière les amplis et m'adresse un grand sourire en frottant sa joue du revers de la main, me signifiant ainsi dans un langage universel « La barbe ! » en me montrant d'un mouvement de tête son collègue en train de s'échiner à la batterie ! Humour anglais, sans doute. Excellent !

Depuis le matin, le backstage est envahi par le matos de Deep Purple qui encombre le passage en prévision du concert qui clôture la journée. Le plus impressionnant est le clavier – pardon : les claviers – qui occupent une place non négligeable à côté de la batterie. Les autres valises, caisses et box marqués de l'effigie de tous les groupes de la journée – voire de l'un ou l'autre musicien en particulier – est un patchwork à l'esthétique particulière mais ô combien parlante pour qui sait où il est.

Je quitte les lieux avant la fin du show de Deep Purple, non pas que mon backstage me gêne – que du contraire ! – mais les bouchons du matin me font dire que ce n'était que de la roupille de sansonnet à côté de ce qui se trame pour ce soir. Et puis, après tout, le Nuge est venu, il a vu, il a vaincu: à quoi bon rester plus longtemps…?!