A heavy day in the park, annonce le ticket. Et de fait: sous un soleil de plomb, nous relions Nijmegen pour y passer une heavy journée dans le parc en plein centre ville. Et il n'y a que de belles et grosses pointures à l'affiche de ce heavy day in the park. Nous nous concentrons sur deux des quatre scènes, et notre premier combo de la journée est PAPA ROACH qui laisse bien vite place à MOTORHEAD.


SLAYER prendra ensuite la relève : quand je dis que c'est une journée heavy, c'est une heavy journée ! Aussi lourde que le soleil tapant sur les têtes… Le cheveu dans la soupe qui s'en suivra s'appelle VELVET REVOLVER qui tente tant bien que mal – mais sans jamais y parvenir – de prendre dignement le relais de Gun's & Roses.


Mais les compositions du Velvet ne sont pas à la hauteur et qu'on l'aime ou non, Axel Rose reste un pivot essentiel du band. Sans lui, c'est comme Thin Lizzy sans Phil Lynott, c'est comme AC-DC sans Bon Scott, c'est comme un pastis sans glaçon, c'est comme une belle fille sans cervelle (quoique…). Ma surprise de la journée, et je pèse mes mots, est la prestation d'AUDIOSLAVE : la claque du jour. Un véritable grand et beau moment avec Chris Cornell aux vocals. De quoi introduire magistralement la grosse pointure de la soirée : BLACK SABBATH, featuring le line-up original et originel. Ozzy est fidèle à lui-même dans toute sa splendeur – ou dans toute son horreur, c'est selon… – Tony Iommi est implacable et parfait, et la rythmique avec Geezer Butler et Bill Ward assure sans faille : du tout, tout, tout grand Black Sabbath, c'est sûr !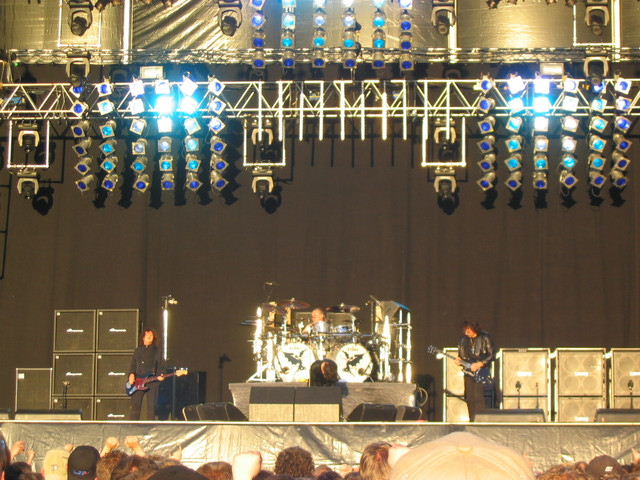 RAMMSTEIN qui clôture les festivités (et par la même occasion le festival) reste un moment, disons, particulier même si musicalement nous ne sommes pas dans la même catégorie ni dans le même registre. Pyrotechnie et mise en scène flamboyantes et fumeuses sont bien au rendez-vous, et le show dans toute sa splendeur est conforme aux attentes du public. Reste maintenant que, musicalement parlant, nous verrons dans quelques années si nos lascars passent la redoutable et implacable épreuve du temps : celle qui fait que l'Histoire – et le public – se souvient de vous…