The Nuge 1 de 2. Ted débarque en Europe après… quatorze (14 !) années d'absence sur le Vieux Continent : que rêver de mieux ? Quatorze années d'absence pour deux concerts seulement : pas question de manquer ce come back unique et inénarrable ! On débarque à Londres pour découvrir l'Astoria, un club… gay qui est également un haut lieu du rock à London.

Mon pass m'attend, comme de bien entendu, pour saluer le Nuge en fin de concert. Nous sommes déjà cependant quelques-uns uns à l'attendre à la sortie du soundcheck en fin d'après-midi, et j'adore la surprise de Ted en m'apercevant : « Hey ! What the fuck are you doing here ?! ».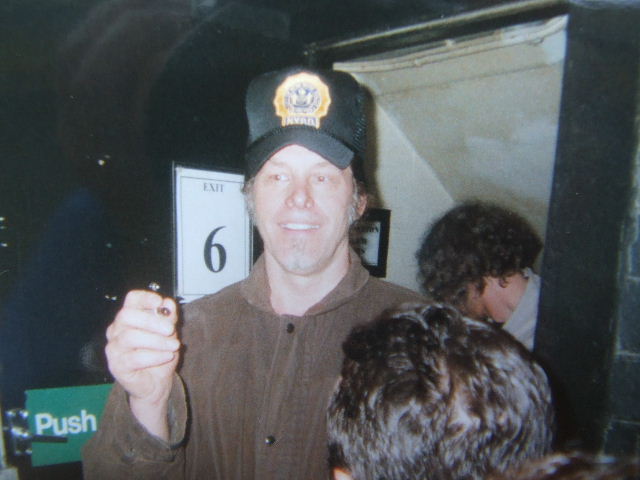 Le concert du soir est véritablement exceptionnel : le répondant de la salle est tel qu'il galvanise notre Nuge, et le tout vécu au premier rang est tout bonnement poignant.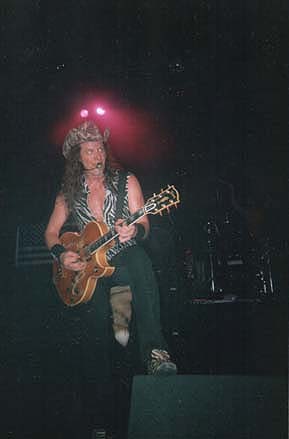 Ted n'arrête pas d'échanger traits d'humour et autres vannes à l'attention du public anglais qui le lui rend bien. Ce n'est plus un concert, c'est un véritable dialogue – parfois de sourds (au propre comme au figuré !!). Bob Quandt, le tour manager, vient me chercher à l'issue du concert afin de venir saluer le Nuge. Je suis impressionné comme lors de ma toute première rencontre avec Ted au moment de franchir la porte de sa dressing room. Nous sommes trois à avoir le privilège d'être présents – et je suis heureux de retrouver sa fille Sasha qui est également de la partie comme elle me l'avait annoncé – retrouvailles, accolades, embrassades. Mais est également présente Shemane, Mme Nugent, dont je fais la charmante connaissance autrement qu'à distance comme il y a 6 ans à Detroit. Sont également de la partie les deux fistons, Toby (qui devient progressivement bras droit – garde du corps – tour manager) ainsi que le plus jeune, Rocco : le Nuge Clan au grand complet ! Nous restons une bonne demi-heure presqu'en famille à boire et manger ensemble tout en écoutant le Nuge raconter combien il est heureux de retrouver l'Europe, et d'annoncer que le Vieux Continent se souviendra longtemps de son passage éclair (Blitzkrieg – dixit Gonzo) cette année – ou plutôt de son débarquement, comme il se plait à souligner la date anniversaire de celui de Normandie que nous commémorons ce 6 juin !

Nous quittons tous ensemble les lieux par une porte dérobée à l'arrière du bâtiment, moi précédant toute la famille Nugent qui s'engouffre immédiatement dans un gros monospace garé juste devant la porte, sous les flashs crépitant de fans profitant des deux mètres séparant le van de la porte de sortie pour tenter d'immortaliser le moment sur la pellicule… Grande soirée, à nouveau. Grande soirée. On reprend la route pour emprunter le premier ferry du jour à Douvres au petit matin: c'est que je dois être en Suède demain pour le show n°2, and a long way…