Un problème de ticket me fait repasser par les Tedquarters à Jackson – l'occasion de revoir tout le staff qui n'a qu'une question à la bouche : « How did you find the show yesterday ? Did you enjoy it ? ». Comme si la réponse n'allait pas d'elle-même ?! En route pour Saginaw et le second concert – on m'a promis un backstage qui m'attend aux guichets : je me pince pour y croire, tâchant de contenir mon excitation de peur qu'un pépin ou qu'un imprévu ne transforme ce rêve en cauchemar…
Saginaw City, Michigan : le Nuge est bien à l'affiche du Civic Center avec, qui plus est, Alice COOPER en première partie, autre régional de l'étape ! Ce n'est d'ailleurs pas vraiment une première partie (deux groupes locaux s'en chargent) mais bien un double concert ! Je quitte bien vite ma place VIP pour descendre dans la fosse et vivre le show tel qu'il doit être vécu : de front. Alice est exceptionnel et ne cesse d'annoncer la couleur tout au long de son set (« Everybody's here for The Nuge, everybody ! ») – ce que le Nuge lui rendra bien des fois en demandant à plusieurs reprises durant son propre show des acclamations pour Alice : ils sont bel et bien de bons vieux complices depuis des décennies, et cela ne m'apparaît tangiblement qu'aujourd'hui. Le set du Nuge sera – subjectivement – parfait. Que dis-je ?! perfectissime ! Mais rien à faire : ma main ne quitte pas ma poche où se trouve mon « After Show Pass » en prévision de mon accès backstage en fin de concert ! Il me faudra attendre une bonne demi-heure après le show avant d'être admis backstage par le Tour Manager qui vient me chercher à la demande de Sasha Nugent.
Rapide présentation (« Where do you come from ? What's your name ? » etc.) avant qu'il ne me guide dans les dédales de l'arena jusqu'à la dressing room du Nuge. Gasp !!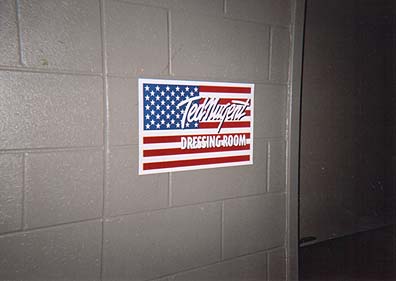 Me voilà dans l'antre, pincez-moi svp, pincez-moi FORT ! Le Nuge, sorti il y a peu de sa douche semble-t-il, est installé dans un fauteuil, seul dans la loge, en train de manger une assiette froide. A notre vue, il se lève d'un trait et vient me saluer en me serrant vigoureusement la pince tandis que son Tour Manager procède aux présentations d'usage : surréaliste ! Le Nuge repart bien vite s'installer afin d'achever son assiette, m'invitant par la même occasion à l'accompagner. Le buffet est dressé sur la table, à boire et à manger : que des légumes et de la charcuterie, et des soft drinks – jus de légumes ou jus de fruits. Et me voilà installé dans le fauteuil jouxtant celui du Nuge, tous deux en train de manger et boire tout en devisant. Enfin, quand je dis en discutant, c'est un grand mot pour qui connaît le Nuge : une question de 5 mots entraînant une réponse de 5.000, une réflexion d'une phrase suscitant une répartie de 500 phrases, le Nuge est bien fidèle à lui-même : intarisable et passionné – un vrai moulin à paroles qu'il n'est pas aisé d'interrompre ! La conversation passant de la musique à la chasse et des armes à la politique, voilà-t-y pas que le grand Ted de m'expliquer les différentes législations européennes en matière de chasse à l'arc. Surréaliste ! Belgium se résume pour lui à FN (non pas Forest National mais bien Fabrique Nationale), aux gaufres, aux chocolats et à… Cat Scratch Fever (cf. la pochette intérieure de l'album du même nom). Et se remémore, rigolard en la narrant, l'histoire de ce journaliste belge qu'il a foutu violemment hors de sa chambre d'hôtel à Bruxelles en plein interview pour je ne sais plus quelle obscure raison que je n'ai pas bien comprise – je n'ose pas lui faire répéter de peur que cela m'arrive également ! Une heure de bonheur avec le Nuge seul en tête-à-tête dans sa loge, si ce n'est l'arrivée de sa fille Sasha – grâce à qui je suis là – qui nous rejoint en cours de conversation pour finalement ne plus nous quitter. L'heure avançant, vient le moment de mettre un terme à ce rêve éveillé : Ted me gratifie d'un autographe sur une affiche prise à la va-vite dans le hall d'entrée (« My Belgian Bloodbrother»!). Nous sortons tous trois du complexe par une porte dérobée à l'arrière du bâtiment afin d'éviter les dizaines de fans qui font encore le pied de grue à la "sortie des artistes". Dernières poignées de mains et accolades avant que le Nuge n'embarque dans sa Jeep Wrangler de laquelle il prend tout simplement le volant pour repartir chez lui, Jackson Mi., au beau milieu de la nuit et comme qui dirait après une journée de turbin. Comme dans sa loge (passablement défraîchie, soit dit en passant), nous sommes bien loin des clichés du show biz, bien loin des strasses et des paillettes, des pépées et de tout le toutim… Impressionnant, le Nuge: aussi calme et pondéré qu'enflammé et excité, posé ou passionné et passionnant selon les moments et les sujets. Quant à moi, je rentre à mon motel pas très éloigné de la salle, me demandant si tous les événements de cette soirée sont bien… réels.