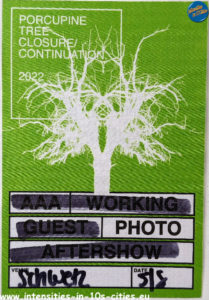 This is our last show… [blanc]… [long blanc] … [silence]... of this tour. Sacré Steven WILSON, va ! Toujours le mot pour rire et/ou pour brouiller les pistes et/ou pour semer le doute dans les esprits: après avoir annoncé l'année dernière la reformation temporaire de PORCUPINE TREE juste le temps d'un nouvel album et d'une seule tournée puis au revoir, c'est début de cette année qu'il confirme ses propos en précisant urbi et orbi qu'il n'y aura effectivement pas de suite à ces belles et parfaites mais temporaires retrouvailles. Puis de lâcher en interview au dernier Hellfest il y a deux mois qu'il ne faut pas croire tout ce qu'il raconte, ayant la fâcheuse habitude de mentir (sic).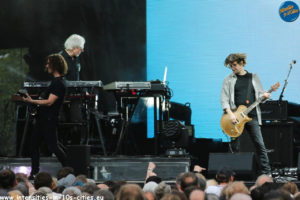 Allez donc savoir si nous assistons ce soir au dernier concert de cette tournée Closure/Continuation 2022-2023 que nous avions découverte l'automne dernier en Allemagne déjà, à Oberhausen… ou si nous assistons bel et bien à l'historique, mythique et ultime prestation de PORCUPINE TREE. Quoi qu'il en soit, le band met de toute façon la clé sous le paillasson dès ce soir pour une durée indéterminée. Closure/Continution: Wilson ne pouvait baptiser d'une plus adéquate appellation ce dernier album, cette dernière tournée, cet ultime concert…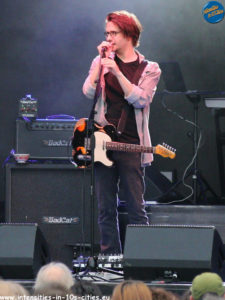 C'est ainsi dans un recoin des 100 hectares (!) de parc et de jardins à la française du Château de Schwetzingen que PORCUPINE TREE décide de tourner une dernière page – du livre, ou du chapitre, l'avenir donc nous le dira. Quel plus élégant cadre pour ce dandy de Wilson toujours exquisement british, so british avec son parler plus puriste que celui du plus distingués des speakers de la BBC et à l'humour plus british que jamais.
20h00 précises, très précises: PORCUPINE débarque sur scène, Wilson tout jovial et une bouteille de bière à la main en même temps que les premières gouttes d'une pluie provisoirement éphémère tombent sur Schwetzingen. Pas de quoi désoler un Steven lâchant que la pluie n'est pourtant pas du tempérament de PORCUPINE. Et bam ! de nous envoyer fissa un Blackest Eyes dans les gencives pour donner le ton, suivi d'un Harridan de derrière les fagots, prétexte pour tourner à la rigolade l'absence de son bassiste Nate Navarro – retourné en précipitation aux States en pleine tournée pour urgences familiales. Harridan, débutant par un riff de basse précisément, est pour Wilson l'occasion de présenter au public « the funky invisible bassist » tout juste avant que la sono ne crache les notes attendues.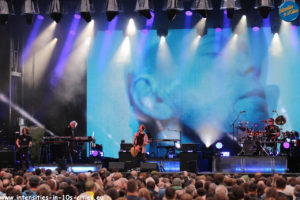 Remarquable prouesse technique, magie de la technologie (et il sait bigrement de quoi il parle, le bougre) permettant au band de poursuivre sa tournée sans bassiste mais sans que le show n'en pâtisse non plus le moins du monde. Prouesse ou tour de passe-passe que ce set de 02h15′ garni d'une ligne de basse complexe et alambiquée comme on la connait sans l'ombre du moindre bassiste sur les planches. Même si visuellement il y a un manque…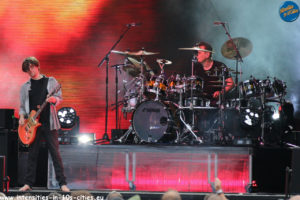 Septante-cinq minutes et neuf morceaux plus tard, intermission de vingt minutes. Le second set débute avec une intense mais heureusement courte averse avant d'enchaîner avec Anesthetize, Wilson ironisant qu'avec ce long, long morceau, il nous verra plus trempés à la fin qu'au début – ah ah ah, petit comique va – quand il ne fait pas la promotion d'une de ses dernières rééditions deluxe remastérisées et comptant quantité de bonus-tracks ne justifiant pourtant pas son prix de vente honteusement surestimé et surfait pour ce que c'est. Ou de constater une surabondance de t-shirts estampillés PORCUPINE TREE qui semblent manifestement bien neufs par rapport à l'époque où ils devraient dater…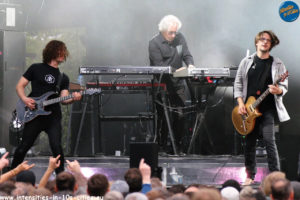 Y aurait-il dans l'assemblée un survivant de son premier concert allemand donné dans une sombre cave de Munich au siècle dernier devant 30 personnes? A moins qu'ils ne soient tous déjà morts, s'interroge-t-il. A ses côtés, ses deux fidèles et historiques acolytes: Richard Barbieri aux claviers (et à la programmation, comme le précise ironiquement un Wilson constatant que son claviériste trop concentré ne répond pas à une de ses interpellations) et l'époustouflant Gavin Harrison toujours aussi exceptionnel derrière les fûts. Et une nouvelle tête se cache (presque) stage left: à la six-cordes tantôt rythm tantôt lead guitar, et aux backing (parfois lead) vocals: Randy McStine, à la hauteur de ses prédécesseurs même si John Wesley restera à jamais le couteau suisse parfait.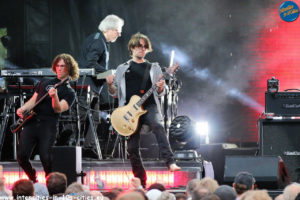 Si Closure/Continuation avait été joué dans son intégralité à l'automne dernier en début de tournée, parsemé de-ci de-là dans la set-list, il n'en est rien ce soir pour cette dernière date de cette même tournée éponyme qui nous nous transporte dans le temps et nous fait voyager dans la discographie de PORCUPINE TREE. Anesthetize demeure encore et toujours une des (la ?) master-pieces incontestables et incontestées durant ce paroxysme orgasmique d'un bon quart d'heure – l'orgasme paroxysmique du show. Impossible de réfréner un frisson qui nous parcourt l'échine à l'impensable idée, à la seule pensée que nous vivons peut-être présentement un dernier instant, unique et intemporel à graver dans le marbre neurologique de nos mémoires. Oui, nous étions avec PORCUPINE TREE à Schwetzingen ce 05 août de l'an de grâce 2023, pourrons-nous fièrement dire plus tard…