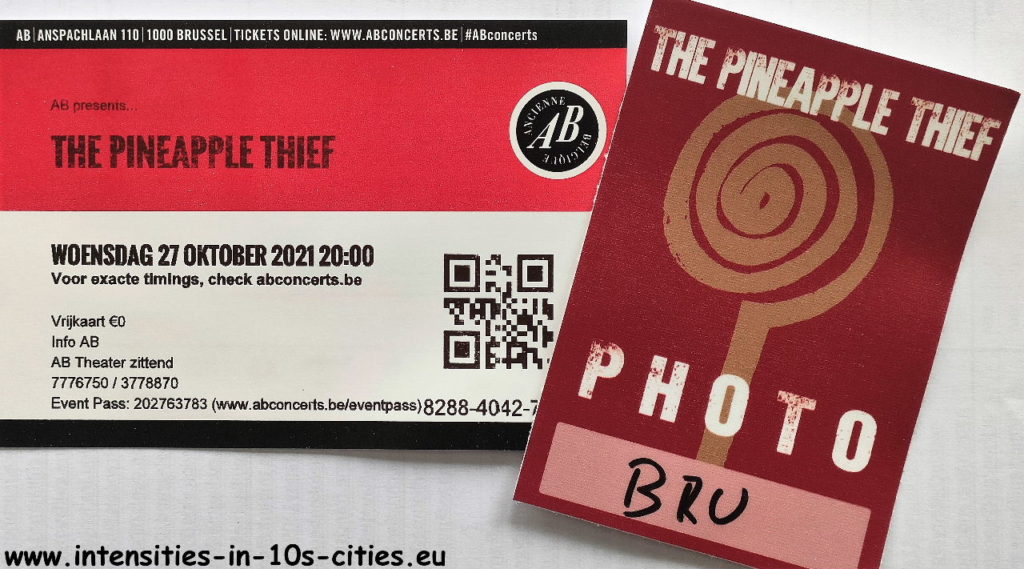 Il y a de ces soirs où l'on n'imagine pas l'ombre d'un seul instant qu'une perle vous attend dans un écrin dont vous ne soupçonniez même pas l'existence: Alex Henry FOSTER est de celles-là. Il y a de ces atmosphères, de ces ambiances et de ces rencontres d'une densité telle qu'elles ne peuvent pas davantage se narrer: on ne peut que les vivre, et Alex Henry FOSTER en fait aussi partie. Au point que The PINEAPPLE THIEF peut ensuite venir et même être mauvais – ce qui fut tout sauf ça, que du contraire – FOSTER même s'il n'officie qu'en première partie aura fait notre soirée. Non: notre année. Pour ce qui est donc de la tête d'affiche, les bourrins de seconde zone argumenteront que The PINEAPPLE THIEF ne fait qu'exploiter le filon et la veine laissée en jachère depuis la dissolution de PORCUPINE TREE il y déjà 10 ans de cela. Et quand bien même serait-ce le cas, réussir un tel exercice n'est pas donné au premier surdoué venu. Bruce Soord et son timbre de voix, tout autant que les harmonies en background vocals, ne feront que renforcer cette sensation et cette filiation…
Mais ces raccourcis mal venus feraient fi de la présence de Gavin HARRISON aux drums depuis 2016, chaînon manquant (ou plutôt liant) entre les fûts de (The) PORCUPINE TREE et les drums de The PINEAPPLE THIEF (tiens, tiens, TPT en abrégé tous deux, vous m'en direz tant…). Sa frappe et sa polyrythmie si particulière, reconnaissables entre mille, demeurent un exercice de très haut-vol et renforce s'il le fallait encore la complexité de ces compositions à tiroir, architecturées telles des pyramides : une base large et solide pour pointer tout en finesse vers l'infinité du ciel.
Qu'on le veuille ou non, certaines sonorités de cet alt-prog-rock hors catégorie sont frappées du sceau Steven WILSON avec un son solidement ficelé, sans samples trop simples ni autres trucs bidon. L'explication que ce même Wilson ait signé The PINEAPPLE THIEF sur l'un de ces labels se suffit sans doute à elle-même. Mais s'en contenter serait faire fi de l'empreinte incontestable de Gavin HARRISON qui a littéralement métamorphosé un voleur d'ananas qui, auparavant, nous indifférait presque.
Pour leur seconde venue à Bruxelles, The PINEAPPLE THIEF est un des premiers bands étrangers et d'envergure à fouler de nouveau les planches de l'Ancienne Belgique post-covid. Sa configuration full-assise, sans même un semblant de fosse ni de pit-photo, rend les lieux plus intimistes que d'habitude, même si celle-ci nous l'avons perdue depuis plus d'un an et demi. Nos jetons-boissons qui trainaient dans un fond de tiroir depuis lors ont toujours cours: une chance qu'il y ait encore des valeurs sûres qui ne se déprécient pas…
A propos de valeur sûre (au Canada) ou à confirmer (en Europe), de quel tabernacle sort donc cet extraordinaire, cet extraterrestre Alex Henry FOSTER qui officie en première partie avec ses Long Shadows?! Premier band d'outre-Atlantique a fouler les planches de l'AB depuis mars 2020, ces Montréalais au savoureux accent nous en mettent plein les mirettes en nous plongeant dans une atmosphère et dans une ambiance littéralement hors du commun.
Trois compositions seulement (ou n'en était-ce finalement que deux…? (*)) occupent le terrain des 40 minutes de post-rock avant-gardiste qui lui sont dédiées, mais quelle occupation toute en subtilité et toute en finesse. Quelle prestation toute en densité, toute en overdub, toute en texture et toute en loop. Un set éblouissant, atmosphérique, hypnotique, lancinant, hallucinant, instinctif, expérimental, aérien et à la fois musclé et parfois noisy. Nous venions pour The PINEAPPLE THIEF mais repartons le coeur gros comme ça, empli d'une émotion dont nous a submergé cet inénarrable Alex Henry FOSTER & The Long Shadows.
Depuis longtemps une prestation ne nous avait-elle plus confronté à une telle emphase, à une telle communion, à autant d'intensité, de grandeur d'âme, d'amour, de pudeur et d'émotions. FOSTER, par sa présence irradiante et un charisme rare, synchronise et orchestre tel un guide ses envolées improvisées où chacun de ces Long Shadows semble à la fois partie d'un tout et organisme à part entière. En un mot comme en cent, ce diable de Montréalais nous a sans conteste réservé la surprise live de l'année.
Les blaireaux de seconde zone dont mention en début de cette review ne manqueront certainement pas d'imputer au contexte pandémique cette plus haute marche du podium que nous attribuons à FOSTER, classement certes tout subjectif et qui n'a de toutes façons pas lieu d'être. Rendez-vous est néanmoins donné lors de sa tournée d'été 2022 pour qui voudra confronter ses sensations et par dessus tout fusionner son karma avec celui d'Alex Henry et ses Long Shadows… Pas le temps d'attendre ? Découvrez alors ici sa vision spirituelle du monde et de la musique (interview de juin dernier).
(*) Alex Henry FOSTER nous précisera quelques jours plus tard: « While it wasn't sure how many songs were in our 40-minute set, I can confirm that it was 2 and a half. I say that, because the first one, titled "Ouverture" was meant to be used as an intro and merge into the first song, the unreleased "Slow Pace of the Winds". The other half of our set was destined to our song "The Hunter (By the Seaside Window)"« .
(… autres instantanés consultables dans notre Hall of Fame)