Les organisateurs de ce premier RAMBLIN' MAN FAIR ont sorti et poli l'argenterie. Et véritablement mis les petits plats dans les grands en limitant volontairement à only 15.000 festivaliers sur les deux journées (!) la capacité maximale et optimale d'un site pouvant en accueillir au moins 10 fois plus… chaque jour. C'est dire le confort et les conditions idylliques de participation d'un public choyé et gâté aux petits oignons (sauce menthe) de par cette approche qualitative assez unique en son genre.
Ramblin' jour 1, midnight – fin :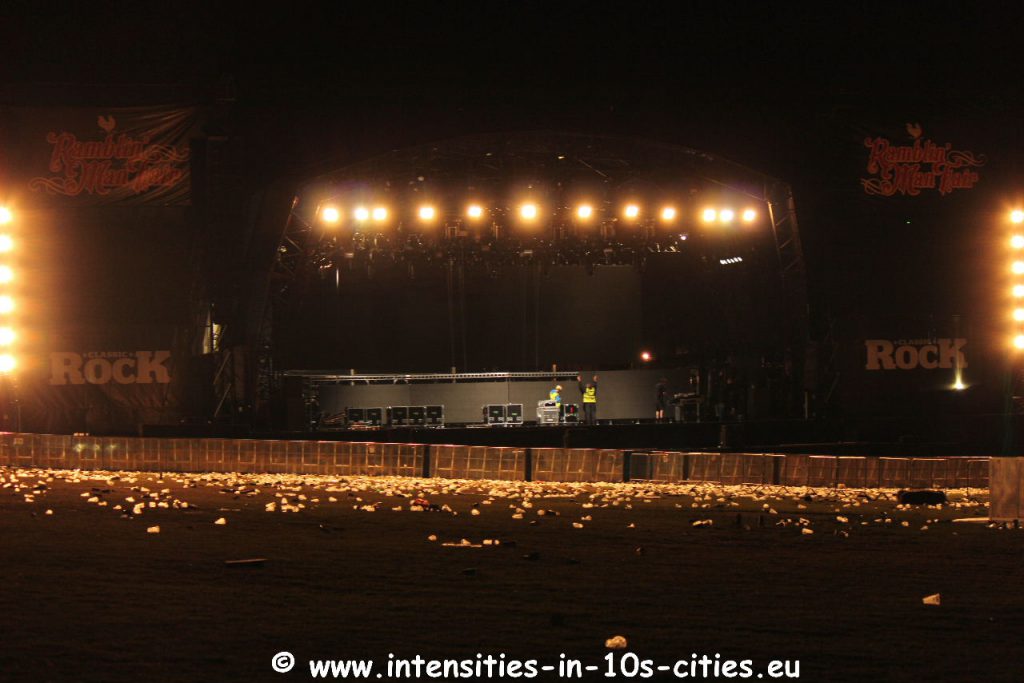 Ramblin', jour 2 : ainsi sommes-nous bienheureux, aux antipodes des marchands du temple qui transforment la plupart des festivals en pompes à fric. Ailleurs, on profite de l'imbécilité complice du festivalier lambda qui apprécie semble-t-il se transformer volontairement en poule de batterie et/ou en bestiaux tout juste bons à cracher son pognon sur les 50 cm² de terre battue qui lui sont dévolus. Ici non, c'est tout le contraire et de surcroit sur un gazon british please: chapeau-melon bas Messieurs les Anglais de TeamRock Radio, UK, where rock music is born comme vous le dites si bien ("If rock'n'roll is a drug, TeamRock is the dealer ").
Cependant, Angleterre oblige, le soleil radieux d'hier samedi fait place ce dimanche matin à une pluie parfois dense, parfois plus insidieuse et subtile, mais en tous cas continue en ce jour du Saigneurs. Les promoteurs annoncent que le ciel devrait redevenir clément vers 18h00, et le ciel fut: la météo leur donne totalement raison à 18h07' précises. L'organisation est décidément parfaite…
Bénéficiant d'un accès en primeur au site de ce Festival of Classic Rock, Prog, Blues & Country dès 10h00, c'est dans un parc totalement vide mais sous un costaud crachin que nous assistons aux premiers soundchecks. Et la baffe de la journée sera confirmée à 13h00 lors de la 1ère prestation sur la main stage : BLUES PILLS est une véritable tuerie. Une tuerie, qu'on vous dit ! La claque dans la figure durant le soundcheck, et la baffe officielle et magistrale en lever de rideau du festival: un dimanche qui commence par un tsunami. Coup de cœur absolu pour ce quatuor suédois abondamment programmé par ailleurs sur TeamRock Radio qui ne s'y est pas trompé. Une basse monstrueusement présente qui bucheronne en cadence avec une batterie bombastique, un guitariste aux riffs plus psychés que ça tu meurs. Et aux vocals, mama mia les vocals !
BLUES PILLS, c'est la réincarnation du Grand Funk Railroad qui aurait consommé encore plus d'acide pour virer psyché grave. Les Suédois ont carrément réinventé la recette explosive du r'n'r avec aux vocals une espèce de tigresse plus proche de Janis Joplin dopée aux amphet' que de Dolly Parton. Cette prestation de 35 (?!) minutes seulement pour débuter le dimanche sur la grande scène vaut tous les bâtons de dynamite du monde. Un quatuor réellement ex-cep-tion-nel, assurément la claque absolue de ce dimanche et THE découverte de la journée (voire du weekend).
Rien qu'à compter le nombre de blondasses qui débarquent backstage en début de soirée pour assister au show de RIVAL SONS, on a compris. On a compris qu'elles cherchent à s'abriter de la pluie. Ou qu'on à affaire à quelque chose de très particulier. Révélation de la décennie et incarnation du renouveau rock'n'roll, ou plutôt plongée en plein revival à mettre à l'actif de frimeurs et de poseurs qui exploitent 5 décennies de r'n'r sans rien véritablement y apporter? L'avenir nous le dira.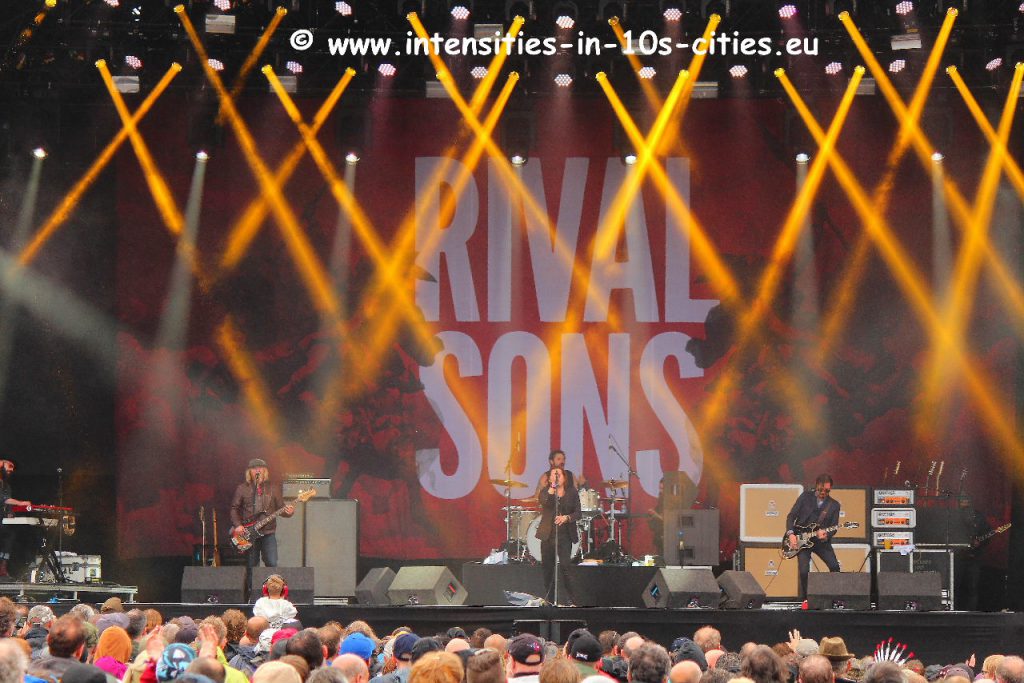 Un son de batterie live très Bonham, une guitare qui arrache bluesy-rock 60's, tout ça est très riche et relevé par un chanteur charismatique. Le fils naturel et/ou spirituel de Jim Morison? Sa quasi-réincarnation en chair et en os mène tout ça de main de maître. Pour notre part, on préfère manifestement écouter RIVAL SONS – et les apprécier – plutôt que de les regarder. Il y a de ces groupes, comme ça, dont l'allure énerve ou irrite alors que musicalement parlant ils méritent un total respect. Peut-être pas (encore) une totale admiration, mais bien un total respect présentement…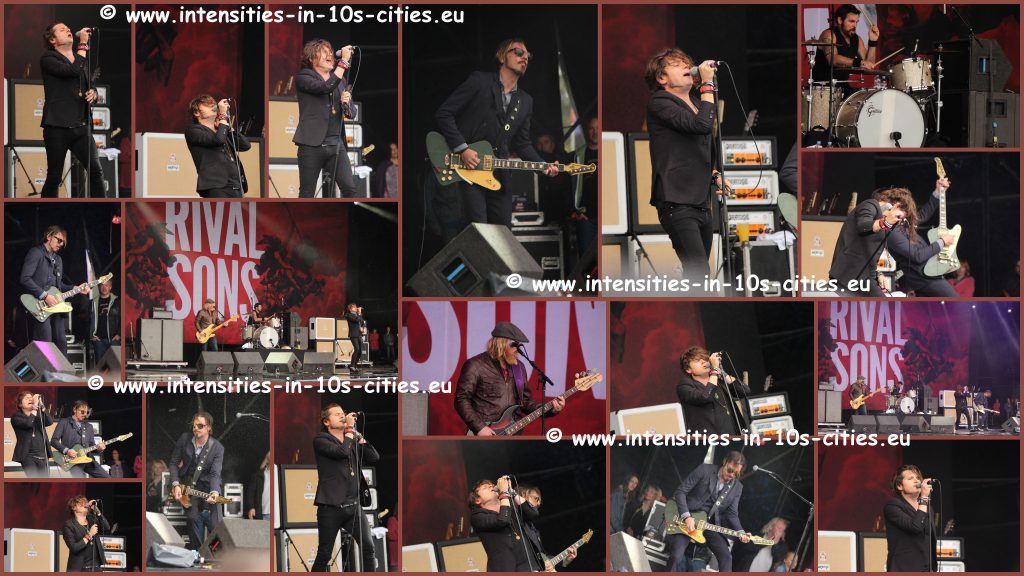 SOLSTAFIR : notre coup de cœur / découverte du Sweden Rock Festival 2014 confirme amplement tout le bien que nous pensions d'eux il y a un an. La surprise en moins, c'est néanmoins derechef une prestation qui nous entraîne dans de longs loops parfois hypnotiques d'inspiration à la fois de Monster Magnet et d'Anathema. Pas possible, allez-vous dire ?! Effectivement. Sauf quand on sait marier le feu et la glace, ce qui est un jeu d'enfant quand on provient du pays icelandais du même nom. Élémentaire.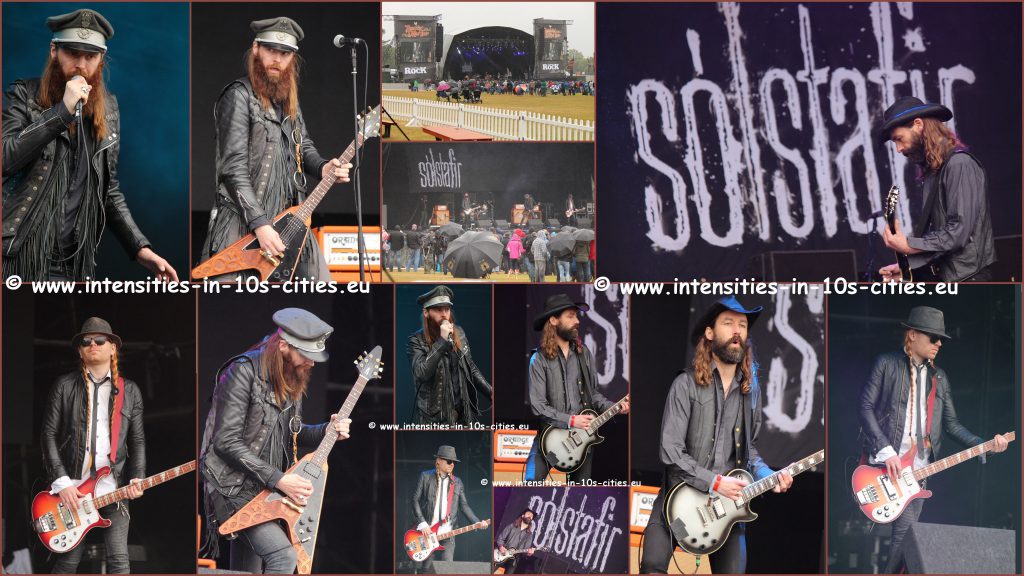 Même scène, autre mo(ve)ment: The TEMPERANCE MOVEMENT : un chanteur qui tient 45' à ce rythme, on n'en découvre pas tous les jours. Est-ce lui qui entraine le band, ou est-ce le groupe qui le pousse à cette paroxysmique démonstration!? Une combinaison littéralement explosive, comme une espèce de Blues Travellers qu'on aurait tuné ou survitaminé. On a-do-re.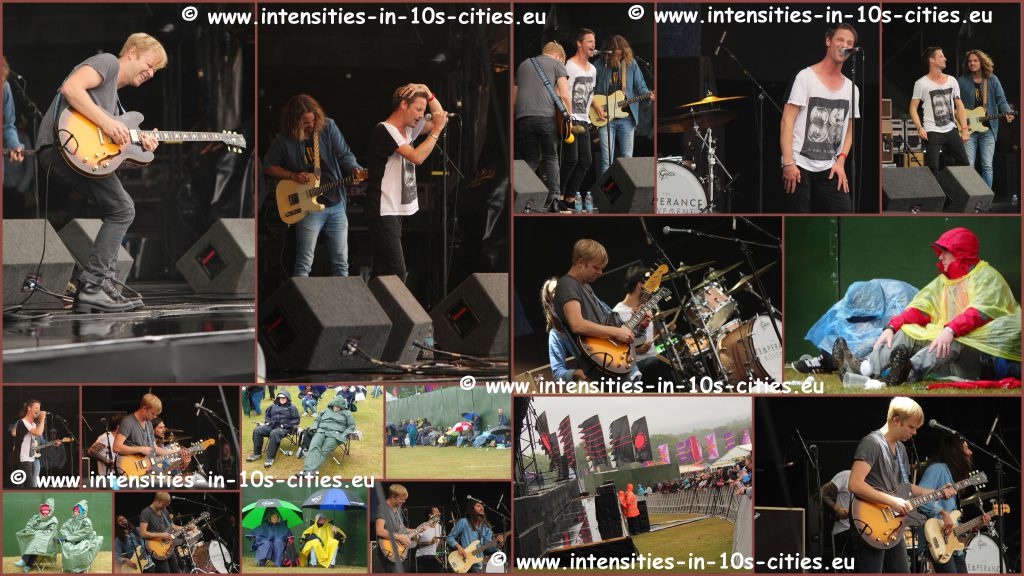 Festif et entraînant, le rock des QUIREBOYS est celui des bistros où l'on danse. Pas le pub-rock guindé de Dr. Feelgood, mais plutôt celui où l'on met un peu moins les formes et où la Guinness coule à flot.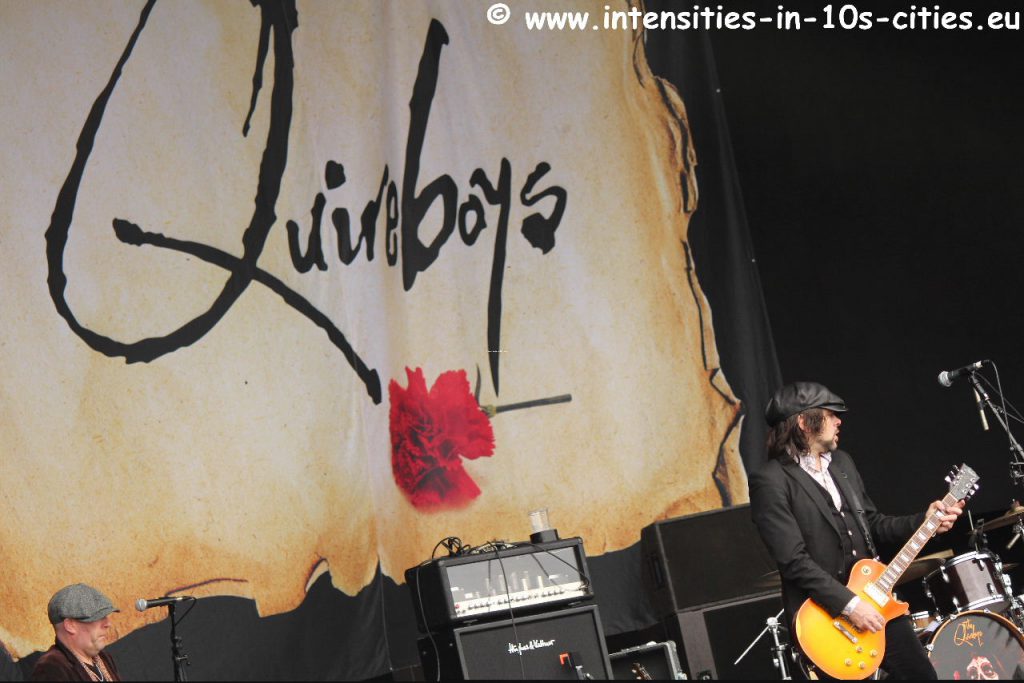 Un clavier qui donne le tempo, et c'est presque c'est tout le Maidstone Mote Park qui se transforme en immense piste de danse-sur-boue: 200% rock'n'roll on stage et 100% frontstage. On a beau se contenir et se dire que ce n'est pas pour nous, mais c'est plus fort que tout: les QUIREBOYS, pinte en main, parviennent à faire dodeliner une enclume et swinguer un paraplégique…
Too old to rock'n'roll, too young to die ? Ian ANDERSON ne pense pas si bien dire: l'homme à la flûte rassemble devant la "Prog Stage" un parterre convenu de cinquantenaires (et plus si affinités) retrouvant probablement les sensations d'une jeunesse en fleurs. Il est de ces mélodies qui traversent plus difficilement que d'autres les âges, les époques et les décennies, et la set list de Ian ANDERSON mâtinée de Jethro Tull en fait ce soir comme qui dirait partie…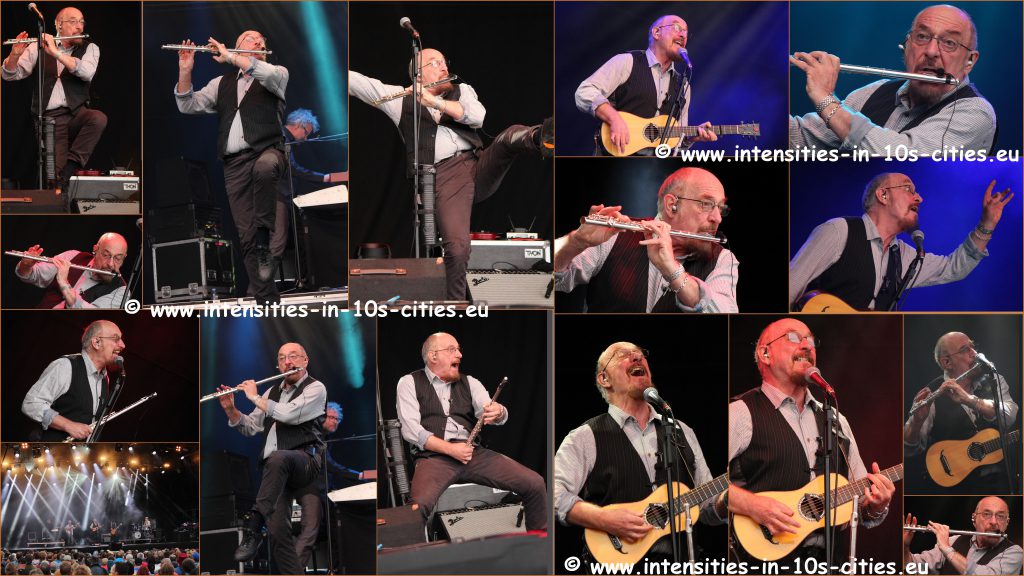 Au flûtiste unijambiste, nous préférons les accords rugueux blues-rock des premières heures du Whitesnake en la ronde personne de son digne représentant Bernie MARSDEN. Le marquee estampillé Outlaw Country Stage hier samedi est étiqueté aujourd'hui Blues Stage: même endroit, même matos mais autre style. Et à l'applaudimètre de ce dimanche, la tête d'affiche des lieux Bernie MARSDEN remporte la victoire absolue.
De fait, l'ex-Whitesnake attire la grande foule dans un marquee décidément trop petit pour contenir son énergie et la foule qu'elle draine. MARSDEN nous réserve en outre la surprise d'être accompagné par un autre comparse provenant de la congrégation du Serpent Blanc : Neil MURRAY himself. Autant dire que le chapiteau déborde en cette fin de journée comme la panse d'un bavarois à l'Oktoberfest, et la toile dégouline comme le string d'une escort girl en plein taf.
MARSDEN, tout en rondeur(s) et en bonhomie, nous distille son heavy blues high voltage de derrière les fagots, et la clameur monte encore d'un cran lorsqu'il s'embarque avec Murray dans l'une ou l'autre de ses compos qui ont porté Whitesnake au firmament. Une hystérie collective à en faire pâlir Coverdale himself, fore sure. Avec The SCORPIONS hier, MARSDEN est le seul act à s'offrir un rappel. Non: à nous offrir un rappel…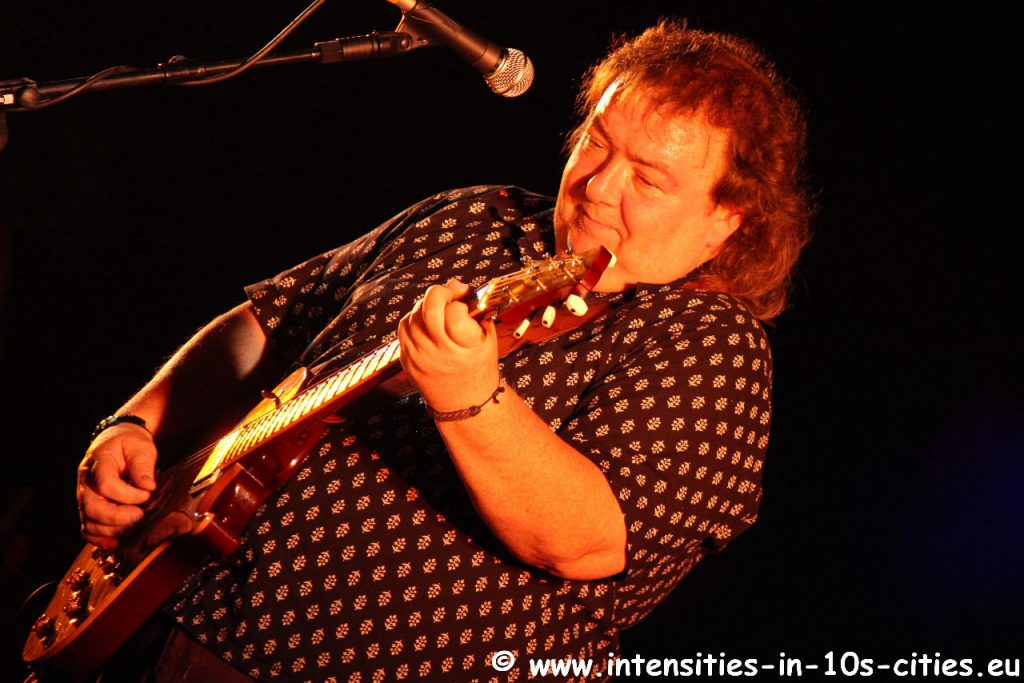 Après un tel set, après une telle énergie, la tête d'affiche sur la Main Stage Gregg ALLMAN (en UK exclusive siouplait) ne casse pas trois pattes à un canard. Presque pathétique, comme éteint ou momifié, ALLMAN ne brûle plus. Le soufflé est semble-t-il retombé depuis longtemps. Les cuivres et backgrounds ne parviennent pas à faire décoller le vaisseau ALLMAN. Pire, les interminables vides, langueurs et longueurs entre deux morceaux contrastent d'autant plus violemment avec un MARSDEN pathologiquement hyperactif.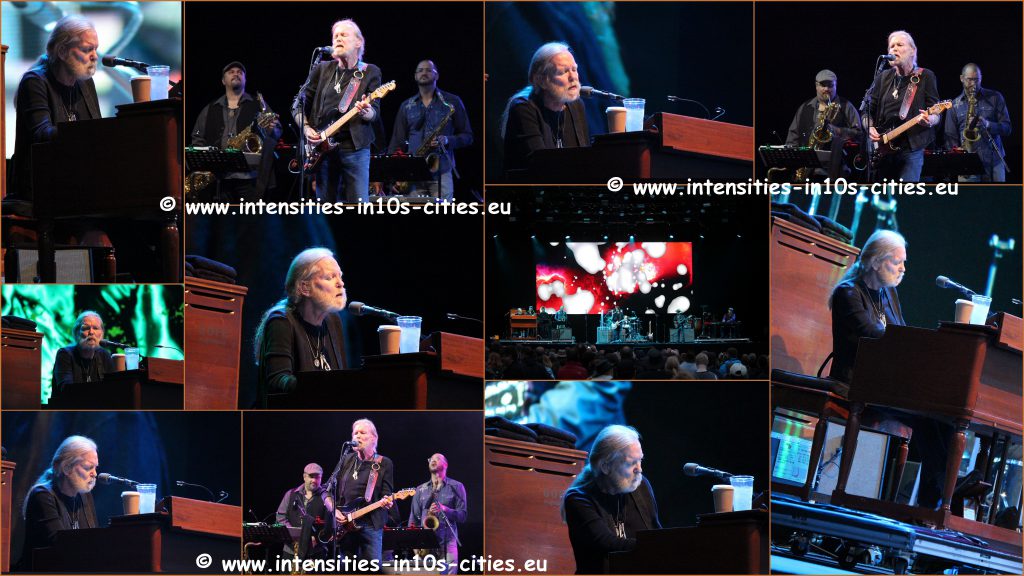 Ce grand monsieur qu'est Gregg ALLMAN excelle assurément mais n'est manifestement pas ce soir the right man at the right place at the right moment. Le début de son set est couvert par la clameur de la prestation de MARSDEN qui se termine dans le marquee, pour ensuite être cannibalisé par la puissante sonorisation en provenance de MARILLION qui débute sur la Prog Stage en qualité de 3ème tête d'affiche…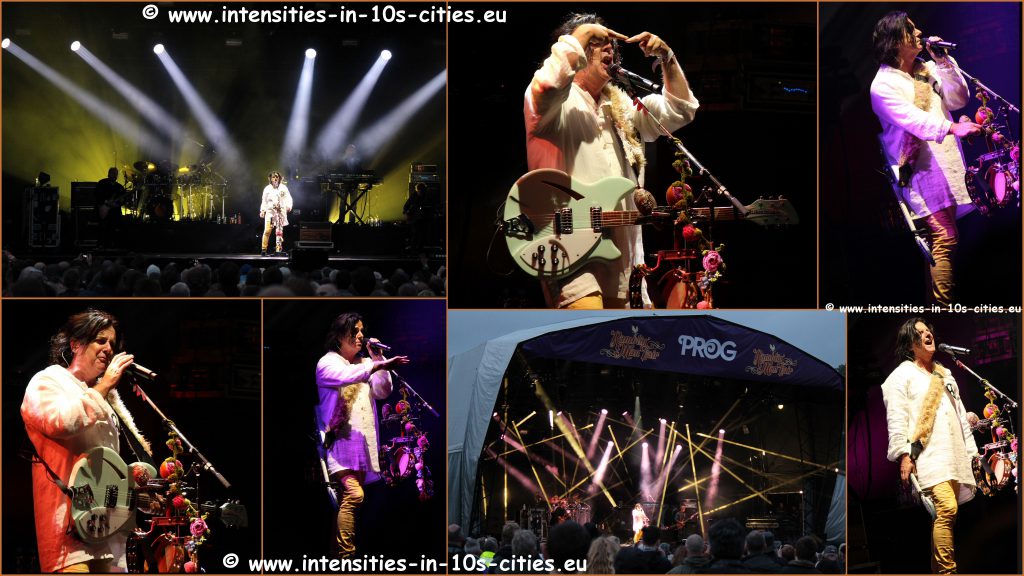 MARILLION, certes irréprochable, ne parviendra cependant pas non plus à faire oublier la prestation de MARSDEN ni celle d'autres belles et grandes pointures qui se sont succédées à l'affiche ce dimanche. Sans revenir sur la bombe BLUES PILLS qui a ouvert les hostilités à 13h05 (quelle étrange heure pour débuter un festival…) et les prestations remarquées du jeune prodige de la gratte Aaron KEYLOCK. Mention spéciale aux Polonais de RIVERSIDE (du Dream Theater en meilleur et moins pompant) et, un ton nettement en dessous, de Pineapple Thief.