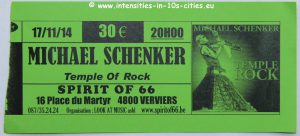 Co-fondateur de SCORPIONS avec son frère Rudolf, Michael SCHENKER nous sert ce soir un best of de la plus riche époque des teutons, mâtiné d'un florilège de UFO et d'une sélection raffinée du MICHAEL SCHENKER GROUP. Que demander de plus?!
L'Allemand se pointe (comme les casques du même nom) bonnet vissé sur le crâne sur lequel semble rivées depuis des années ses lunettes de soleil pour (certainement) protéger la laine de la chaleur dégagée par les lustres. Accompagné de ses 6 Gibson Flying V dont 5 refroidissent alternativement dans leur box, Herr SCHENKER réunit derechef son line up exceptionnel « TEMPLE OF ROCK » identique à celui de 2013, ainsi flanqué de ses deux compères historiques de l'époque SCORPIONS, Herman "Ze German" RAREBELL et le flamboyant Francis Botox – pardon: BUCHHOLZ – qui n'a pas changé en 30 ans (mais comment est-ce Dieu possible?).
L'ex-Rainbow Doogie WHITE aux vocals est un peu à la traîne, avec un organe qui peine manifestement en fin de set à force de passer sans cesse du Klaus Meine à du Phil Mogg et vice-versa. Encore davantage que l'année passée au même endroit – et ce n'est pas peu dire – SCHENKER est jovial et rayonnant, enthousiaste même et d'un entrain plus que communicatif. Oui, aussi étrange que cela puisse paraître, il a l'air de s'amuser et de prendre son pied, le Teuton (son pied mari(teu)ton?). A moins que ce ne soit l'effet Gibson Flying bien coincée entre les jambes…?
L'époque semble presque lointaine où nous n'avions droit qu'à son faciès d'enterrement et à sa tronche d'une morbide froideur proche de l'antipathie et du dédain. Mais, comme nous le confie le patron des lieux à l'issue du set, "C'est que Michael SCHENKER a-do-re littéralement se produire au Spirit". Ce qui ne l'empêche cependant pas de prendre la poudre d'escampette et de se sauver en catimini, bien encadré, dès le set terminé. 1h40 plus tôt, "Doctor Doctor" ouvre comme l'avait fait UFO l'année dernière une copieuse set-list, comme pour laisser penser que ce qui est fait n'est plus à faire (ou plus vite fait plus vite quitte, peut-être ?).
Toujours est-il que ces 100 minutes de bonheur ravissent un public comblé composé d'une horde de fans du SCORPIONS de la première heure, à peine plus nombreux que les aficionados de l'ovni UFO et tous réunis par une même délectation pour les compos du MICHAEL SCHENKER GROUP. Et que dire lorsqu'il rend hommage à Ronnie James Dio?! Pour la petite histoire, restera cependant à préciser à Francis Buccholz que Verviers est situé en Belgique et non pas en France. Mais ne soyons pas mauvaise gueule: c'est vrai que nous sommes si loin de l'Allemagne, ici à Verviers…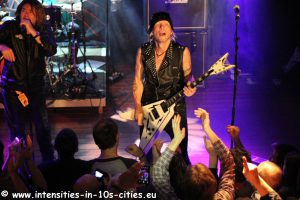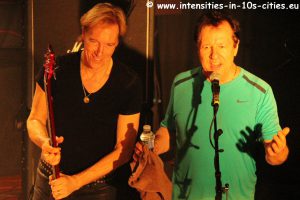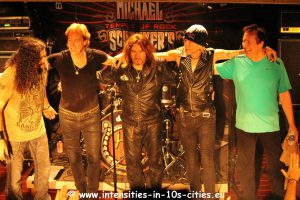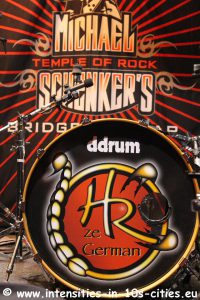 (Concerts encore antérieurs de Michael SHENKER au Chapitre 1 "The Vintage Years 1978-2011")