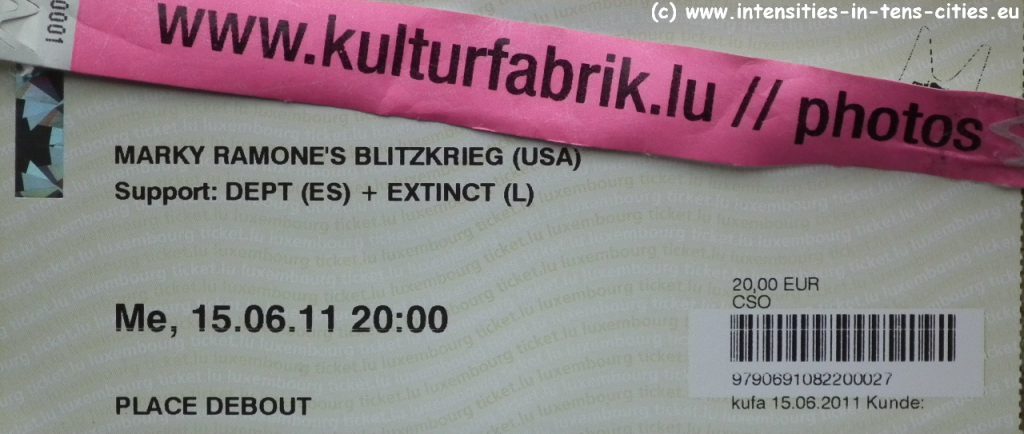 Marky Ramone(s) se souviendrait-il de la claque qu'il m'a assénée lorsque, pré-ado, je découvrais en 1978 l'album Road To Ruin des RAMONES ? Sans doute que non, malgré le pass-photo dont il me crédite ce soir afin d'immortaliser mes retrouvailles avec ce qui est et reste le seul groupe punk-rock que j'ai pu aduler. The RAMONES : même The Clash et The Sex-Pistols leur mangeaient dans la main. The RAMONES : la référence absolue d'un autre temps, d'une autre ère – révolue – mais qu'ils ont inventée en 1974 : l'ère punk-rock… Les quatre frères RAMONES se séparent en 1996, et trois d'entre-eux (les fondateurs) décèdent début de la décennie suivante : Joey, Dee Dee et Johnny laissent dès lors Marky gérer seul aujourd'hui l'héritage et les royalties des RAMONES. Histoire d'assurer la pérennité de la légende new-yorkaise, Marky forme alors son propre groupe, le MARKY RAMONE's BLITZKRIEG, qui reprend sur scène l'intégrale des morceaux du clan du même nom.
Ce ne sont donc pas les quatre RAMONES qui sont sur les planches ce soir, mais c'est tout comme ! Le son est fort et puissant à souhait mais pourave et brouillon, limite trash : punks are not dead ! Les morceaux s'enchaînent à la vitesse de l'éclair, sans une seule seconde de répit entre deux si ce n'est l'intemporel "One-two-three-four !" lancé à la cantonade au micro. Et le cheval fou de poursuivre son galop en nous balançant un best of the best of The RAMONES qui balaye toute la discographie du band.
L'injonction donnée par le biais d'un carton posé à-même la table de mixage et qui spécifie "Maximum 105 décibels" a-t-elle ou non été respectée ? C'est à voir – ou plutôt à entendre. Elle l'a certainement été lorsque Michale Graves (vocals) gratifie l'audience d'une salutaire pause semi-acoustique en s'installant en solo sur un tabouret, gratte à la main. Le frontman, transfuge de The MISFITS, nous offre alors un peu de douceur et de calme en nous balançant quelques arrangements de son groupe originel (… le moment idéal pour aller se ravitailler au bar ?). Ce cheveu dans la soupe passé, le band au complet le rejoint sur les planches pour poursuivre le show par un second set toujours aussi énergique mais, dira-t-on, peut-être un peu moins brouillon. M'enfin, comme le caractère léché et poli n'a jamais été la marque de fabrique des RAMONES, on ne va quand même pas se la jouer pète-culs ce soir…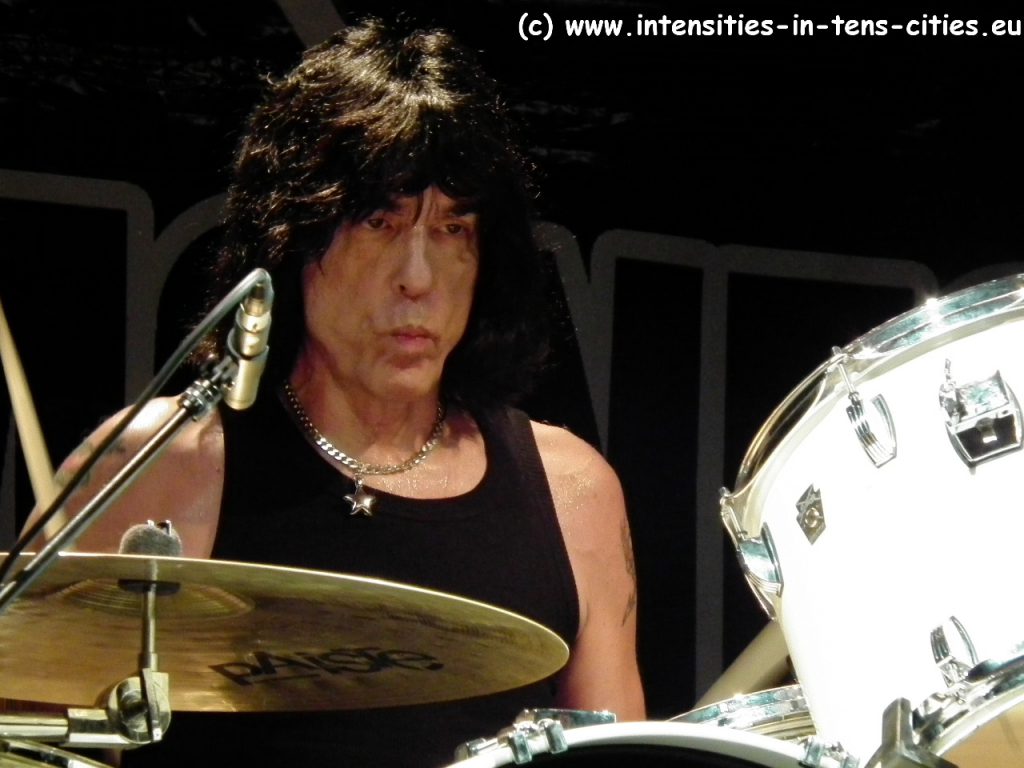 Regrettons que, comme à sa triste habitude au Duché qui n'a de Grand que son nom, le public (pourtant transfrontalier) a été en-dessous de tout. En plus d'être déplorable en qualité comme à l'accoutumée, il a en outre été ce soir minable en quantité. Les RAMONES méritaient quand même mieux que ça – et ce ne sont pas les deux bands qui assuraient la première partie dans une Kulturfabrik mortifère qui me contrediront. Quoiqu'en ce qui concerne DEPT, il s'en est fallu de peu que leur soporifique prestation m'incite à rejoindre moi aussi le bar… Hey, Ho, Let's Go !